Kevin Roberts who succumbed five hours after he was hit by a bus succumbed to multiple injuries which he sustained, his relatives said.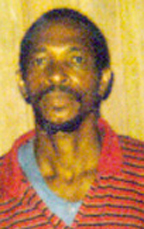 Roberts, 52, of 15 Norton Street, Lodge was riding his bicycle on Saturday some time after 3 pm when he was hit by a Route 41 minibus on Norton Street. He was rushed to the hospital in an unconscious state and was admitted into the Intensive Care Unit.
He passed away some five hours after the incident.
According to the man's sister, Petal Roberts, the post-mortem examination revealed that her brother suffered head injuries, broken arm and leg, broken ribs and internal bleeding.
The driver of the minibus, with licence plate number BLL 495, told this newspaper that he was proceeding along Norton Street when Roberts suddenly swung out from one of the side streets into his path.  He said that he tried to "mash brakes" but it was too late and the two collided.
Stabroek News was told that the man and his cycle ended up underneath the minibus after it came to a stop. Following the incident, the driver said he immediately took Roberts to the hospital.
The minibus was detained and the driver taken into custody.
Meanwhile, Roberts is to be laid to rest on Thursday. His funeral service will he held at Sandy's Funeral Parlour at 2 pm. Roberts was said to be a very friendly, quiet person who was very well known in his area.
A contractor by trade, Roberts leaves to mourn his seven children, relatives and friends.
Around the Web