A man, who allegedly pretended to be a pastor, was yesterday arraigned on rape and robbery charges at the Georgetown Magistrates' Court.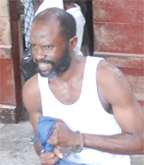 Terry Adams, 45, also known as Terry Williams, of Tucville, was not required to enter a plea to the indictable charge of rape. He pleaded not guilty to the summary charge of simple larceny. Acting Chief Magistrate Melissa Robertson subsequently remanded him to prison.
It was alleged that on March 20, he had carnal knowledge of a woman, 20, without her consent. It was also alleged that between January 1 and January 31, he stole a gold ring, two gold earrings, a gold chain and a quantity of cash, valued in total at $133,920. The items belonged to Eileen Gittens. The court was told that both women positively identified Adams as the perpetrator in both incidents during identification parades. "I am innocent of these charges," Adams stated, after the charges were read.
According to Prosecutor Stephen Telford, Adams committed the rape at gun-point. He explained that the young woman was walking in North East La Penitence when Adams drove up in a vehicle next to her, disembarked and pointed a gun at her. Telford told the court that Adams ordered the woman in the car and he drove her to the Botanical Gardens, where he raped her. The prosecutor noted that afterward, Adams robbed the woman of a gold ring and a cellular phone. The woman was present in court but declined to say anything about the case.
For his part, Adams said he was arrested on Labour Day and was later identified during identification parades as the person who had raped the woman and robbed Gittens. He said that he was taken from one police station to the next before he was finally charged at the Brickdam Police Station with the offences.
Meanwhile, Gittens, who was also present, told the court that she approached Adams outside the church on Charlotte and Wellington streets. She said he presented himself to her as a pastor at a church in Campbellville and had offered to take her there to pray for her. Believing him, she got on to his bicycle with him and they proceeded. She noted that she had placed her jewellery and money in her purse, since it was early in the morning.
When they arrived at the Botanical Gardens, Gittens stated that she did not complain since he assured her that they were going to start praying there. She noted that she had noticed that something was not right when Adams soon switched from telling about the love of God to asking her if she wanted him to take out his private parts and show her. She said that despite this, she still believed that Adams really was a pastor and came to pray for her.
Gittens said they walked to a tree and Adams instructed her to place her purse on the ground and close her eyes. She followed his instructions and walked with her eyes closed to another tree when he told her to do so. "But yuh know something tell me fuh open me eyes and when I do that I see he speeding down he road in de Gardens on he bike with me purse in he hand. Your worship ah start holler 'cause I just realise that he rob me," she said.
The woman then told the court that on Labour Day while she was standing on D'Urban Street and Louisa Row, she noticed Adams also standing looking on at the Labour Day Parade, wearing the same hat and clothing that he had used on the day that he robbed her. She said that she alerted her friend who was standing next to her and the friend made a citizens arrest of Adams. They later took Adams to the police station and he was later charged.
Gittens noted that at the station Adams had agreed to compensate her for the jewellery and money but changed his mind when he was informed that he was also being charged with rape.
Prosecutor Telford said additional charges are likely to be brought against Adams and noted that advice on the matters was already sought from the Director of Public Prosecutions and the police are awaiting a reply.
Adams is to return to court on June 3. (Ayanna Blair)
Around the Web