The Region Five Disabled Persons Network has planned an educational tour of schools, a blind cricket match and a number of other projects as part of its activities to mark Blind Awareness Month.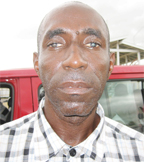 Mark Archibald, president of the network in this region, told Stabroek News that the visit to schools would be used to inform students and teachers about how to treat persons who are visually impaired and those who are challenged by other disabilities. The network said it plans to inform teachers about how to detect at an early age when pupils may have eye problems. In many cases "when students do not perform well it is probably because the colour of the chalk is too light," Archibald said, adding that in such a case, teachers can simply use a different colour chalk.
He said too that the impending Disability Bill would facilitate persons with disabilities being able to participate and enjoy all aspects of national life. Archibald, who lost his sight a few years ago, said a debate competition on whether blind persons should be accepted in schools will also be held. Archibald told this newspaper that while the group is enthusiastic about starting the awareness programme it lacks the necessary funds to cover all costs. He said the Ministry of Education had promised to "cooperate to find a solution to the transport problem" and the network is depending on this commitment coming to fruition in order to host its programme.
However, the cricket match is set for May 26 at the Seafield Community Centre. Tickets are also on sale for a take-away lunch that is set for the same day. Archibald is appealing to persons to support the group's efforts. He also extended gratitude to cricket coach Wayne Fraser "for being very patient while training us." Two cricketers from Region Six have also been accommodated in the team and Archibald is urging blind persons to participate in the game.
The network also hosted a campaign to inform minibus drivers of the rights of the disabled and shared flyers to drivers with this information in front of the Weldaad Police Station on April 20. The group also targeted churches, shops and other businesses with the same information.
Additionally, the group is encouraging the public to support its fundraising projects. Members are currently undertaking a project to make concrete firesides and though they have acquired the moulds, they are awaiting the donation of cement, sand and stones. The group is also making rosettes for Mother's Day. Archibald said business persons in West Berbice have contributed boards and saws for their joinery project where they plan to build tables and chairs. However, he said they will not proceed with that project because they need a "sanding-machine which is safer for blind people" and are asking persons to assist them in this endeavour.
According to Archibald, recently the Ministry of Human Services and Social Security and PNCR member Dr Richard Van West Charles donated a number of sewing machines to the network to facilitate training for visually impaired persons. He said too members are eager to start cooking and cake decorating classes but the community centre building they are using needs to be extended and equipped with kitchen facilities before that can happen. Persons who can assist in any of these endeavours are asked to contact Archibald on telephone numbers: 232-3351 or 678-8777.
Around the Web