The mother-in-law of Bridgette Gangadin, whose mangled body was found on the Vigilance Public Road, East Coast Demerara (ECD), yesterday admitted that her son abused his wife, but said he had promised several times to change his behaviour.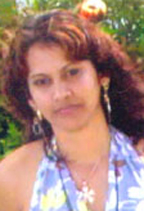 Sheila Gangadin and her husband Jaichand were at the Lusignan home of the dead woman's mother and views on the incident were openly expressed and tears flowed. The couple had earlier arrived in the country from the United States, where they reside.
When Stabroek News arrived at the home, following a call from Bridgette Gangadin's relatives, the two mothers were embracing each other as relatives and friends who had gathered looked on.
Jaichand openly criticised the media's coverage of the incident, particularly Stabroek News, which he said published "garbage."
Bridgette's relatives had said that it appeared as though the woman's throat had been slit but, according to Jaichand, it was speculation and should not have been published as it could have caused "people to act irrationally." When told that the information was taken from the dead woman's relatives, the man said that under the circumstances "people would say anything."
He noted that no one was with the couple in the moments leading up to the incident, so what happened was unclear. He also dismissed the suggestions by the woman's relatives that his son reversed over Bridgette's head, stressing that in cases where persons fall off a vehicle it is the back wheel that would run over them. Trying to explain why his son did not go to the police station located a stone's throw away from the scene of the incident, the man said that circumstances cause people to panic.
The Gangadins said they were not there to create conflict; they came in peace and wanted to offer support to the family.
Sheila Gangadin told this newspaper that she and her husband had treated Bridgette as though she was their own daughter and ensured that she had everything in her home to make her life comfortable. She said she would call and speak to her weekly. She admitted that her son was abusive towards his wife, but said she often spoke to him about his behaviour. He in turn made promises to change. She recalled that when she received the news of the incident she could not move from the chair she was sitting in. "This thing was a shock to me," she said.
According to Sheila, she and her husband came to Guyana to support Bridgette's relatives and to take care of the funeral expenses. "We [the parents] will do things together," she said.
She added that Bridgette was 13 years old when she married her son. She and her husband migrated in 2001, leaving the couple to live in their home at Lusignan.
Not satisfied
The dead woman's relatives have recounted 14 years of abuse she suffered at the hands of the man, who had even threatened his mother-in-law. Other relatives were also fearful of him.
A post-mortem examination (PME) performed on the woman's body on Monday revealed that her head was crushed by a wheel and a fractured skull had killed her. Bridgette's mother, Punarbattie Bharrat, amidst tears yesterday, said she was not satisfied with the results because she believed something happened that night and there is more to the story. Holding up a stack of photographs, the woman said that her daughter took them to her two weeks ago and asked her to keep them in the event that she was killed.
The photographs included one of the couple on their wedding day; one of Bridgette with two of their sons; and one of her husband's mistress and their son. The mistress's face had been cut out of the photograph.
As Bharrat was speaking to Stabroek News, the man's parents interjected, stating that Bridgette and their son loved each other and just could not do without each other. Bharrat agreed with them saying that whenever her daughter moved out and her husband called her, she would soften up and return to the matrimonial home. She said she had often warned her daughter about her husband.
Meanwhile, a senior police officer last evening confirmed that the husband remained in custody and would be charged, especially since he failed to report an accident or render assistance to his injured wife. The officer added that it was suspicious that the man would have fled the scene and gone into hiding. The officer said the police are putting the final touches to a file which is to be sent to the Director of Public Prosecutions (DPP) for advice.
The man told the police minutes after being arrested that his wife jumped out of the vehicle and he accidentally ran over her head. He then fled the scene and sought no help for the mother of three of his children.
Police had initially said it was investigating the murder of Bridgette, after her body was discovered on the Vigilance Public Road early Sunday morning, with suspected marks of violence.
Around the Web