Dr Frederick Monderson in association with Professor Joycelynne Loncke donated a number of books on ancient history and articles on American history to the Chief Librarian of the National Library yesterday.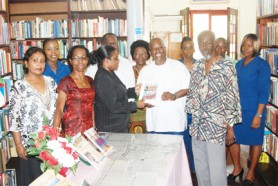 Professor Joycelynne Loncke of the University of Guyana in her introduction of Dr Monderson said that he has done extensive research in ancient history particularly that of Egypt.
Additionally, she said he has published over 40 books and is a journalist with the Daily Challenge, a daily newspaper in New York.
Dr Monderson said that the donation represented a sample of his work done and it was his way of giving back to Guyana.  He said he plans to donate copies of his work as soon as they become available to the institution.
Monderson is a Guyanese by birth.  He attended the St Barnabas School before he migrated to the United States. Last year he donated five books to the library with an aim of having both research and lending copies available at the library.
Chief Librarian Gillian Thompson welcomed the donation and said she was very happy to receive the books and articles which will add to the existing catalogue at the institution. The copies received are expected to be distributed to the other branches of the National Library.
Around the Web