Rich nations are likely to promise US$5 billion this month to protect forests in developing nations, Reuters has reported.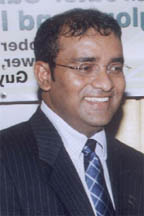 Norway's environment minister, Erik Solheim said the money, due to be outlined at ministerial talks in Oslo on May 27, would add about $1.5 billion to the $3.5 billion outlined for 2010-12 by major donors at a United Nations climate summit at Copen-hagen in December. Protect-ing forests from the Amazon to the Congo is part of a shift in emphasis in 2010 towards practical actions to combat global warming after the Copenhagen summit failed to reach an over-arching new climate treaty.
The Copenhagen Accord – a non-binding agreement reached after two weeks of tortuous wrangling at a 194-nation summit in December had agreed to raise $100 billion in climate aid annually by 2020, and $30 billion from 2010-2012 to help poor nations slow emissions growth and cope with impacts such as  floods, droughts and rising sea levels. More than 100 nations have endorsed the Accord.
President Bharrat Jagdeo had expressed concern in March that the US$10 billion that should have been available this year had not yet been realized. He had said that "very little work" has been done at the global level to secure the money and find a mechanism for its disbursement. The money needs to come from the people who pledged it into a fund, and then a mechanism needs to be found for its disbursement, Jagdeo had said. He had added that the mechanism has to say who is eligible. He said up to now, no agreement has been reached at the global level regarding those eligible, what projects will be funded, how much money countries are going to get, and so on. This is disturbing and unless this issue is solved quickly, many developing countries are going to be very sceptical that "it's all just talk again," with little flow of resources, the President had pointed out. Unless this is done, when countries meet in Mexico later this year seeking a binding agreement, this "bad track record" could provoke serious disagreements, Jagdeo had said.
Solheim told Reuters that Germany, the European Union and Japan were among the nations likely to add cash after Denmark. In Copen-hagen, the United States, Norway, Australia, France and Japan promised a total of $3.5 billion to protect forests from 2010-12. Solheim told Reuters that other ways of building trust between rich and poor nations included sharing green technologies such as wind or solar power and helping poor nations adapt to impacts of global warming. He said the Oslo conference aimed to set up a new partnership between rich and poor to save forests. Plants absorb carbon dioxide as they grow and deforestation accounts for 20 percent of emissions of the greenhouse gas from human activity.
The $5 billion is part of the wider goal of raising almost $30 billion for 2010-12 in quick-start funds under that Copenhagen Accord. "Of course bigger money will be needed down the road," Solheim said. He added that the world would be unable to agree a new climate treaty at the next annual meeting of environment ministers in Cancun, Mexico from November 29 to December 10 but could make progress on individual projects such as forestry. "We want to make certain that money is flowing…We will not be able to solve all climate issues in Cancun," he told Reuters.
Around the Web