The Guyana Rastafarian Council's (GRC) planned march to protest the inability of the community to practice its culture was yesterday short-lived as the group was not afforded permission by the police.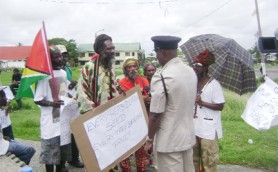 General Secretary of the council, Ras Ian told Stabroek News yesterday that the group was told by the police that the members would not be permitted to under take a march, which the council had planned to draw attention to what it said is the inability of the community to openly practice its culture.
The council, which was joined by the House of Nyabingi and the 12 Tribes of Judah, assembled at the Square of the Revolution around 10 am yesterday and after an hour of waiting, they were informed by the police that they could not assemble at the location, bearing placards, some of which read, 'Every herb bearing seed, every tree bearing fruit', and 'ganja, true champion of the earth'.
Vice President of the GRC, Ras Simeon Sahali said that the members wrote to the Home Affairs Ministry several days ago, and requested permission for the march. He said the group had not received a response up to yesterday and members of the council approached the police yesterday morning and were informed that they would be contacted as regards permission for a march.
While no word was given, Ras Simeon said he is of the belief that "the police and the government obstructing Rastas from protesting they rights" and that the situation was "against the laws of the land". He said the Rastafarian community did not want to "go to prison again for the use of the herb" and according to him, the council will meet and determine the next move.
The Rastafarians later assembled in front of the Ministry of Home Affairs on Brickdam some time after lunch yesterday bearing placards but were ordered from the location by the police. The members, who numbered more than two dozen, stood peacefully in front of the St Stanislaus College before dispersing around 3 pm.
The planned event was to be in tandem with the international Rastafarian struggle today and Ras Ian had told this newspaper earlier that the general aim is to win certain religious freedoms. He said Rastas are not being allowed to freely practice their religion and culture and he noted that previously, the community had called for a review of the Narcotics Drugs and Psychotropic Substances Act.
The issue was raised with the Ethnic Relations Commission.
Around the Web