Sherwyn Haynes, who was involved in a boat mishap in the Essequibo River last week Thursday, is still missing and his relatives continue to cling to the hope that he is alive somewhere.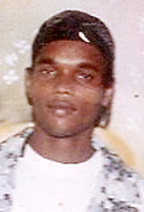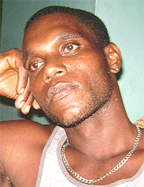 Haynes, 29, of One Mile Wismar, Linden went missing along with two others Norman Newton aka 'Mehroo' of Squatting Area, Blue Berry Hill, and Junior Nurse aka 'Ital Sap' of Leonora when the boat they were travelling in on the Essequibo got caught in the midst of a storm causing it to sink last week Thursday.
Two days later, the partly decomposed bodies of Newton and Nurse were discovered along the river bank a short distance from where the accident occurred, but to date there has been neither sighting of the body of Haynes nor no word as to his possible whereabouts.
Haynes's brother Troy and five other who were on board the boat when the incident occurred had managed to make it to safety. Troy had related the painful ordeal of the fateful day and to date still cries whenever he has to talk about the incident.
He credits being alive today to listening to his brother who had instructed him to hold on to his bag which eventually floated him to safety.
"It's so unbelievable to know that he told me what to do because I didn't know how to swim and he knew how to swim and till this day we can't find him," Troy sobbed.
"We strongly feel he still alive somewhere in one of dem communities along de river deh," Donetta Haynes, one of his sisters, said.
Other family members said that they refuse to accept the thought that Sherwyn might be dead and are appealing to anyone who might have any information about his whereabouts to call 602-7571 or 649-4501.
Stabroek News understands that several search parties including police, relatives and friends swept the Essequibo River for days but all to no avail. The ill-fated boat also has not been recovered. Haynes's relatives said that they do not intend to go on another search but are keeping hope alive that someday soon they will see him alive and well.
Around the Web