Chief Executive Officer (CEO) of GT&T Major General (rtd) Joe Singh is set to step down from his post as head of the telephone company at the end of next month.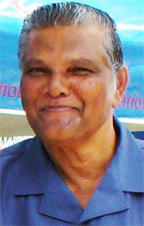 Singh, who took over as the company's CEO in 2005, has reportedly asked to be relieved of his duties.  Efforts to contact him last evening for comment were unsuccessful.
Singh took over as CEO of GT&T from Sonita Jagan in May 2005.  Prior to this, he had served 34 years in the military which included a tenure as Chief of Staff.
After retiring from the army in 2000, Singh was appointed Chairman of the Guyana Elections Commission (GECOM) for the 2001 general and regional elections.  On completion of this assignment, he took over as executive director of Conservation International, from August 2001 until May 2005.
Stabroek News understands that the company's Chief Financial Officer (CFO) Yog Mahadeo has been identified as Singh's likely successor. Mahadeo is expected to assume the duties of CEO from July 1.
Around the Web