A Mabura Hill restaurateur says the sewerage system a senior staff member of a logging company built behind her place of business is a health hazard as it is causing filth to fester.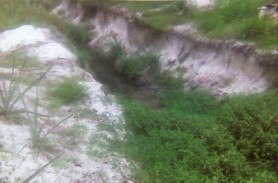 According to Lucy Trotman, 32, a mother of five of Airstrip Road, Mabura Hill, Upper Demerara, an employee of Demerara Timbers Limited built a restaurant close to her business and constructed all the waste water pipes and a septic tank behind her business. She said two months later a stench started emanating from the area, affecting her customers. After several customers had complained to her, she approached the company's management but to no avail.
Trotman told Stabroek News that she travelled to the company's Kingston, Georgetown office on several occasions but each time she was told the CEO was unavailable. This newspaper also sought to obtain a comment from the company, to no avail.
The woman said she has been living at Mabura Hill for more than a decade and she only approached this newspaper about the issue after several months of inaction by the company. In September, in Stabroek News' weekly 'What the people say' feature, Trotman had said that the situation had become unbearable and she had called on the management of the company to remedy the situation.
She said one month after the publication some excavation work was done to fix the problem and a drain was dug close to the area. However, that only made the situation worse as the water accumulated over time was stagnant and became a breeding ground for mosquitoes.
Trotman said the business is her sole source of income and since the septic tank was built behind her business, three of her children had been hospitalised at the Linden hospital with malaria, typhoid and dengue fever. She said too the filth has attracted snakes to her yard and she has had to kill several of them. Trotman said she will be writing letters to the Environ-mental Protection Agency and the Ministry of Health, in an effort to have the situation addressed.
Around the Web