A second autopsy yesterday found evidence that Bridgette Gangadin was strangled, hours after her husband was charged with drunk driving and released on $10,000 bail.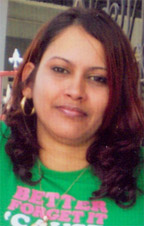 Trinidadian pathologist Professor Hubert Daisley, who was hired by the woman's relatives, made the findings, which support their belief that she was murdered before being dumped on the road, near the Vigilance Police Station early Sunday morning. Bridgette's relatives protested yesterday near the station, while her husband was arraigned for driving under the influence.
Attorney Basil Williams, who is representing Bridgette's relatives, told Stabroek News that Dr. Daisley arrived in the country yesterday morning. Dr. Daisley has extensive experience in pathology and also teaches forensic at the University of the West Indies. He was certified by the Ministry of Health yesterday and later obtained a work permit from the Ministry of Foreign Affairs before conducting an afternoon post-mortem examination on Bridgette's body at the Georgetown Hospital Mortuary. The examination was conducted in the presence of a policeman and one of the woman's relatives.
Stabroek News was told that the provisional anatomical diagnosis by Dr. Daisley was that Bridgette did sustain injuries to her skull, as a result of being run over by a truck wheel but that there was "strangulation with haemorrhage in left strap muscles of neck and left thyroid gland." The pathologist noted too that there was multiple abrasions and asphyxia, due to aspiration of blood in the right and left lungs, also caused by the road accident.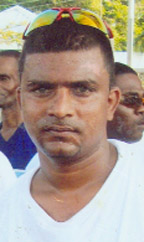 Last evening, Dr. Daisley accompanied by relatives and Williams, handed over a provisional report on his findings to the police at the Criminal Investigation Department (CID) Headquarters, Eve Leary. He is due to send a complete report along with photographic evidence after he returns to Trinidad.
Dr. Daisley has been teaching forensic pathology to medical and law students at the University of the West Indies (Trinidad) since 1985. He has also been consulted on numerous murder cases.
Bridgette's mangled remains were discovered on the Vigilance Public Road, a short distance from the entrance of the police station, around 2:25 am on Sunday with "suspected marks of violence". Police had initially said that they were treating the woman's death as a murder.
According to the relatives, Bridgette, 29, and her husband Dwarka, 34, had left their Lusignan home the night before and travelled to Enterprise where they were expected to go shrimp catching with some friends. However, the trip was aborted and the couple left and it was believed that they were heading home. About an hour later the husband returned to the Enterprise home without his wife and when questioned about her he did not answer. The police were contacted and he was arrested.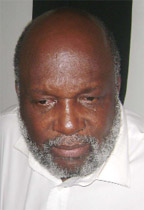 Dwarka had reportedly told investigators that his wife jumped out of the truck and he accidentally ran over her head. Government pathologist Dr. Nehaul Singh on Monday gave the cause of death as crushed injuries to head, caused by a wheel and a fractured skull.
Drunk driving

After spending three days in police custody, Dwarka was released on substantial station bail, Thursday evening. Less than 24 hours later, he appeared before Magistrate Sherdel Isaacs-Marcus at the Vigilance Magistrates' Court, charged with driving motor vehicle on the road while his blood alcohol level exceeded the prescribed amount. Dwarka, a national grass racing champion and upholster, denied the charge and was released on $10, 000 bail.
It was alleged that on Sunday at the Vigilance Public Road, he drove motor lorry GCC 6956 when under the influence of alcohol to such an extent as to be incapable of having proper control of the vehicle.
According to court records, Dwarka was represented by attorney James Bond, who requested that his client be sent on his own recognisance. Bond also indicated that the father of three was not stopped by the police at Vigilance nor was he tested for alcohol consumption there.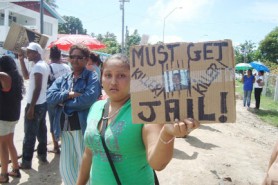 He also stated that Dwarka was not the driver of a motor vehicle at the time the offence was committed. The police prosecution later stated that the witnesses in the case were absent. Dwarka is to return to court on June 25.
The court's decision upset Bridgette's relatives, who braved the early morning sun to protest close to the spot where her body was found. Some even shed tears on hearing of the outcome of the court proceedings. One relative said that it was unbelievable that a man can "murder he wife by driving over she head and get away with it." The woman said that the law in Guyana does not protect women against abuse and as such womenfolk will always suffer. She said that she herself was a victim of domestic abuse and while pointing to injuries to her face said that her husband was put on self-bail.
Other relatives also questioned why other charges directly related to Dwarka fleeing the scene and not assisting his injured wife were not instituted. A senior police official has since told this newspaper that the file on the matter was still with the Director of Public Prosecutions (DPP) and insisted that other charges will have to be instituted against the man.
Dwarka, who was neatly dressed for his court appearance, was accompanied by his father Jaichand and other relatives. He managed to slip away undetected through a back entrance of the station compound after his bail was paid.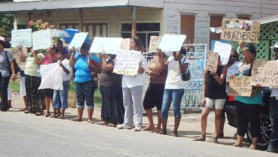 Justice
"Look how dem ah loose me… If de police can't give me justice, God gon give me," were the words of a teary eyed Punarbattie Bharat, the mother of the dead woman. Bharat and other relatives gathered with placards along the Vigilance Public Road around 8:30 am. At intervals they chanted. The placards displayed slogans such as "Murderer," "Where is the law that protects women in Guyana who are brutally murdered by the hands of their husbands?" and "Commissioner of Police we need justice now." Several uniformed officers were monitoring the picketing exercise.
During an emotional interview, Bharat said that she just wanted to be satisfied about how her child died and to get to the truth of what really happened that night. "There is God cause me ain't gon get justice here," she said in tears, adding that she was not surprised when her son-in-law was placed on station bail. "Ow God, somebody can't come and help meh? Ah need help. Ah really need help because I know he murder me daughta," she added sobbing.
She said too that the man's parents are coming to her with "a nice face" but she is in pain because she knows her daughter didn't kill herself.
Meanwhile, Diane Ganesh recalled that when she came to Guyana on holiday in February, Bridgette, her niece, told her that she would die at the hands of her husband. She said that she advised the woman to leave the relationship but opined that she was not emotionally strong to do so. Ganesh reprimanded the Guyana Police Force for failing to protect women. "Our State has failed us," she said.
The woman stated too that while protesting, the man threatened her in front of the police and said hurtful things about his niece but nothing was done. She said when she got news of the incident, she was not surprised. She added that she can predict that Dwarka will eventually walk free.
Relatives shouted for justice when Dwarka's father was leaving the area in the company of a relative, following the court appearance. He slowly walked pass the group of protestors shaking his head but he said nothing.
Bridgette is to be cremated today, in keeping with her wishes.
Around the Web