The Board of Trustees of the Theatre Guild Playhouse presented corporate membership certificates to the representatives of five companies that have committed their support to its programmes yesterday.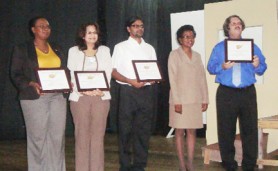 At a simple acknowledgment ceremony held at the playhouse, in Kingston, Russell Lancaster, Chairman of the Board, said the donations will be used to off-set the expenses associated with the running of the playhouse. He said he was pleased with the response from the corporate entities, which responded to their request in a timely manner. The sponsors that were presented with certificates were Republic Bank, GT&T, Ansa McAl, GBTI and Citizens Bank.
John Alves, Managing Director of Republic Bank, said that the Bank reaffirmed its support to the Theatre Guild, in its role in the maintenance of a part of cultural history.
Alves added that the donation was in keeping with the bank's goal and duty of community care and is part of its social investment initiative.
In giving the vote of thanks, Dr Paloma Mohamed said that the donations were much needed to continue the work of the Guild. Mohamed added that she hoped the benefits of corporate membership will be passed onto the company's employees. She added that the contribution is "a great signal that the companies have a social conscience. It shows that they care about much more than dollars and cents, they care about people." She added, "That is the greatest give you can give."
As part of its membership package, the companies will receive, among other things, free tickets to every show, reduced rental rates of its facilities and staff membership to the Guild's workshops.
The Theatre Guild recently launched a corporate outreach programme, whereby it offered the business community and international organisations the opportunity to invest in the programmes facilitated by the Guild.
Around the Web