The body of a man, burned beyond recognition, was yesterday morning discovered in a car trunk at Palmyra, Canje.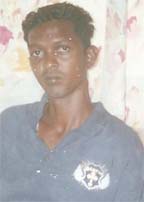 It is believed that the remains are those of part-time hire car driver Roy Mitchell Persaud, called 'Otis' of Angoy's Avenue, New Amster-dam, who has been missing since Friday. The car was also burnt. The vehicle was found at a canefield in Palymra. A police source told Stabroek News that a DNA test would have to be done to confirm that the body is Persaud's but grieving relatives, certain that it is him, yesterday wondered why he met his death in that manner, saying that he was not a bad person and did not deserve such a death. "It horrible, I don't know who got the mind to do that," said Sandra Tahal, the aunt of the 32-year-old father of two.
She told Stabroek News that Persaud was last seen on Friday, when he went to work in New Amsterdam. She said friends of his last saw him at about 10pm that night, when he left the New Amsterdam car park with passengers. He lived alone and the children stayed with their grandmother. After it was observed that he had not returned home that night, relatives launched a search and the burnt car with the body inside was discovered yesterday.
A police source said that law enforcement officials yesterday were told by an anonymous caller that the car was in the canefield and they went to investigate. The charred body in the car's trunk was discovered then. The police had not received a report of Persaud being missing but as word got around, relatives showed up. Tahal said the police contacted them at about mid-day and relatives went to the scene.
There Persaud's mother Shira said she recognized her son's car by the rims. She also provided the chassis number which the police would have to confirm with the Licence Office. Tahal said that given how badly it was burnt, the man's identity was not easily ascertained. However, they are certain that the car was his and scraps of the "blue hard pants" he was wearing on Friday were found, she said.
The police also told them that Persaud was the only person reported missing recently, Tahal said. The remains were taken to the New Amsterdam Hospital mortuary and are expected to be handed over to relatives today.
Tahal said relatives did not know who would want to kill Persaud or why. She said he spoke of no enemies and she knew of no trouble he had with anyone. "We nah really know what play out there," she said. She wondered whether he was killed before being burned or was burned to death. She lamented how people could do such a thing to anyone, adding that her nephew was not a "bad" person.
The woman told this newspaper that Persaud and his wife had worked in Trinidad but he had recently returned home to look after the children's passports to take them to the Caribbean country. While here, to get money, he worked part-time as a hire-car driver. Tahal said he had spent just under six months in Trinidad working. She did not know what work he did.
Persaud was the father of two; a 13-year-old boy and an 11-year-old girl. He is also survived by a sister and mother, Shira Tahal. Police investigations are continuing.
Around the Web