After days of acrimony, Bridgette Gangadin's husband and her relatives yesterday agreed that they will both play a part in her cremation, which is scheduled for today.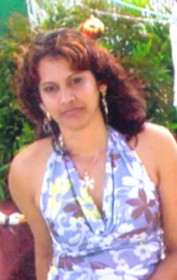 The settlement was reached during a High Court hearing yesterday morning before Justice Rishi Persaud, where both parties agreed to be involved in the cremation. It was decided that the woman's remains will be at her parent's Annandale, East Coast Demerara home for an hour before being taken to her matrimonial home at Lusignan, also for an hour. The body will then be transported to the cremation site.
On Saturday, Dwarka Gangadin halted a cremation planned by Bridgette's relatives, after securing an injunction to include him in the proceedings. The court did not grant an order for the conduct of a third post-mortem examination as was previously reported. In an affidavit submitted to the court, Dwarka mentioned his desire for a third autopsy and stated that he had mentioned this to the police.
The court yesterday instructed that the cremation should be conducted on or before Wednesday and        that Dwarka compensate Bridgette's relatives the $90,000 they had spent on Saturday's aborted ceremony.
An exhausted Heeralall Sookdeo, the dead woman's uncle, confirmed that the cremation will be held today. He explained that the body will first be taken to the Annandale residence where her relatives will conduct a one-hour service. He stated that thereafter the body will go to her husband's home for an hour.
Sookdeo told Stabroek News that this was the judge's ruling and they cannot go against it. He said they were satisfied with the decision. "All we want is for this girl to go to rest," he said. The man did, however, note that the compensation ordered was not enough, since it only represented the storage cost for the body at the funeral parlour.
He also recalled that on the day of the funeral he went to Bridgette's matrimonial home to get a sari for her to wear but her father-in-law refused to hand it over. According to Sookdeo, he was forced to buy a new sari that cost about US$300. He felt that Dwarka should pay all the expenses they incurred to prepare for the cremation last Saturday. "Justice is hard to get my dear, when you don't have money," he said. The man added that the family tried to get satisfaction by conducting another autopsy, but it seemed that their efforts were in vain.
Two Sundays ago, Bridgette's mangled remains were discovered on the Vigilance Public Road, a short distance from the entrance of the police station. Her body had "suspected marks of violence" and police initially said that they were treating the woman's death as a murder. Government pathologist Dr Nehaul Singh subsequently concluded that it was crushing injuries to the head caused by a wheel and a fractured skull that had caused her death.
The woman's relatives were adamant that Dwarka had killed her and requested that an independent post-mortem be done. They hired Trinidadian pathologist Professor Hubert Daisley to conduct an independent examination and a provisional report on his findings was submitted to the Criminal Investigation Department Headquarters, Eve Leary on Friday night. The report, among other things, said that there was evidence of strangulation. Daisley is expected to send a complete report along with photographic evidence to the police.
Dwarka, meanwhile, who was released on substantial bail after being held for three days, was subsequently charged with drunk driving.
Around the Web