-local arms race blamed for 'significant increase' in violence
There are at least 150,000 persons in possession of illegal guns in Georgetown, General Secretary of the Young Women's Christian Association (YWCA) Glynis Beaton said yesterday, while pointing out that the local "arms race" has created levels of armed violence at epidemic proportions.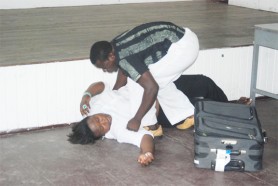 "We are concerned about the increase in the levels and lethality of violence within our society, one within which our young people are learning the harsh realities of life and death because of illicit guns," Beaton told a forum at the YWCA, Brickdam, 'In Harm's Way: Girls in Settings of Endemic Armed Violence', organised as part of the activities to observe Global Week of Action Against Gun Violence. She said one of the priorities of the response to the situation is increasing the participation of women in conflict resolution at decision-making levels, particularly in the light of the harrowing effects on women and girls.
According to Beaton, while the country has a small population of around 750,000, current statistics from the police force show that at least 150,000 people are in possession of illegal arms in the capital alone. Georgetown accounts for almost a third of the national population.
She added that since the 1970s and 1980s, weapons have been pouring in from a variety of sources, mainly due to the illicit drug trade. "This is linked to organised crime and gang violence but a worrying trend is the recruitment of young people who feel the need to arm themselves for self protection and turf battles," Beaton explained, noting that the resulting "arms race" has created levels of armed violence at epidemic proportions.
She also noted that guns are used to protect contraband during transportation and are smuggled alongside drugs, often by the same people using the same routes, including vast borders, rivers as well as the coastline, small ports and clandestine airstrips. Added to that, Beaton said Guyana has an undeveloped justice system, with few judges, police officers and professionals. "With such weak governance and a poor legal framework, the illicit trade flourishes," she declared.
With great social pressure on young men to be the breadwinners for their family, Beaton said, the gun becomes especially attractive when armed violence becomes a means of gaining respect and security that may otherwise be out of reach. She added that some women occupy active roles in the cycle of violence, through smuggling, transporting and hiding weapons. A girl or woman, she said, has little access to power or resources and may feel that she can gain status through association with a man who owns or uses a gun. However, she said many do not achieve the levels of protection they imagined and she noted that at least two women or girls are attacked or killed in Guyana everyday and most incidents are never investigated.
Beaton stated that the impacts of armed violence surpass the obvious consequences, affecting the wider community. "In addition to the physical risk and harm, the presence of guns encourages violent rather than peaceful resolution of problems; exacerbates community tensions and increases the threshold of violence; negates measures to build confidence and security; is an obstacle to development; discourages investment and tourism and contributes to human violations," she argued.
She said that the YWCA is using programmes and initiatives to empower girls and young women to support their roles as peace educators within their families and communities. "Armed violence clearly affects our lives and we are constantly working to find strategies and tools to respond to this," she said, while adding that it is education that fosters a culture of peace and upholds justice and tolerance.
A priority, she added, is to increase the participation of women in conflict resolution at decision making levels. She said young men and women must be able to recognise the costs of gun culture to their own safety and to that of their communities. It is former gang members, who can act most effectively to bring about change and challenge a link between violence and guns.
'Prevalent'
Chairman of the Kitty Crime Prevention Committee Rawle Blyden said that gun violence remains prevalent in spite of the efforts of government and law enforcement agencies. While noting that this situation affects all, he stated that in the last five years gun violence has increased significantly, with even law enforcement officers coming under gunfire, in some cases. Despite the effects of this, it continues and from all appearances, criminals have easy access to weapons, he said. Blyden added that research has shown that in most cases, guns and the narcotics trade go together. He noted that the majority of gun related crimes are committed by persons between ages 15 and 45, a group Blyden described as youth.
He said it is important that citizens get on board to help in the fight to eradicate guns from society by making reports to the police. He said that this type of violence threatens the school system, pointing out that evaluation and rigid factors are needed to tackle this problem.
The mass media and churches, Blyden added can also play a pivotal role and help to bring about social change. He said that society "just can't sit back and let law enforcement agencies deal with it alone."
As part of Global Week of Action Against Gun Violence, activists from around the world work to raise awareness, campaign for better gun laws and push for the stronger regulation of the global arms trade. More that 90 countries take part in the observance every year.
In the feature address at the forum, Kiari Liman-Tiniguir, Guyana's UNDP Resident Representative and UN Resident Coordinator said a large number of organisations around the world are concerned about guns. He added that governments, international and civil society organisations taking part in the week of action are expected to be organising public events, conducting media work and generally engaging more people in the global movement against gun violence. They are also expected to publicise the UN small arms process, emphasise the importance of an Arms Trade Treaty, promote implementation of the UN Firearms Protocol and support policies addressing armed violence, among other activities.
According to Liman-Tiniguir, armed violence affects populations in various ways and some countries see it as a public health issue. It is also the leading cause of death in some countries.
He said that though armed violence affects women, it is overwhelmingly men who buy, sell and use small arms, and he added that this also affects human development since the improvement in a country's infrastructure and economy suffers. "Government therefore needs to employ strict controls on export, transit and importation of weapons to prevent the further proliferation of small arms and their abuse by those violating human rights and international humanitarian law," Liman-Tiniguir said. However, he noted that existing national and regional controls continue to contain significant "loopholes" and there is a crucial lack of an appropriate international treaty to regulate international arms transfer. He urged governments to create a system for the collection and destruction of existing small arms stockpiles wherever they exist but especially in post conflict regions. There is also crucial need for enhancing the ability of law enforcement agencies to trace weapons found in illicit possession back to their point of origin.
'Minds behind the weapon'
At yesterday's forum, the effects of gun violence were evident in newspaper clippings that were pasted on the walls of the YWCA auditorium. Pictures of red AK 47s with messages were also evident. Odessa Primus, a UN volunteer delivered a packed programme depicting the effects of the epidemic, particularly on women.
Gerald Gilkes, in an emotional speech, spoke of the Bartica massacre, in which he lost his uncle. He said that the memories of that day are still fresh in his mind as well as his fellow Barticans. Gilkes recalled that up until February 2008, the community often described as the gate way to the interior, was a quiet one without serious crimes. He recalled that residents could have left their doors open during the night without fear. However, he said on that day, 12 men including police officers were slain, leaving resident in fear. "Most of these men were fathers, husbands, breadwinners or part of some extended family. On that day, wives became widows and children fatherless, all because of guns and the sick men behind the weapon," Gilkes said.
He told those gathered that it is the fingers that pull the trigger that is the real danger, adding that the minds of those behind the weapons need to be studied. He expressed concern that after the tragedy, children especially those who lost a relative, were not counselled. According to him, the tragedy has left behind grave psychological effects.
Meanwhile, another Bartician, Simona Broomes, spoke of her experience in 1993 when her husband was shot dead at their mining camp. She explained that she had returned to Bartica to bury a relative when she got word that her husband, Gregory, was shot in the head and chest as he lay in his bed waiting for midnight to extend New Year wishes to his workers. Since then, Broomes noted, the gun trade has been flourishing in the interior.
Later, a student of the St. Stanislaus College spoke on behalf of all the children who had suffered as a result of gun violence. She mentioned the names of several children killed, including those from the Lusignan massacre. She urged that perpetrators put down their weapons and let peace prevail. "Give the children a chance to grow. Please put down your guns," she said.
As part of the activities, on Wednesday, at the YWCA, there will be a forum for young girls and another, targeting a mixed audience, looking at music and violence.
Around the Web