Investigations into the multi-million dollar fraud allegation against Shafdar Alli seem to be at a standstill and it has since been confirmed that he is no longer the Region Four Regional Executive Officer REO.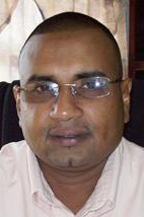 "His contract has not been renewed," Minister of Local Government and Regional Development Kellawan Lall told Stabroek News via telephone yesterday.
Earlier, when questioned about the status of the investigations into the allegation of fraud against the former REO, Lall had said that he knew nothing about it and it was something about which the police should be questioned.
Alli turned himself into the police on March 2, four days after they had issued a wanted bulletin for him. The February 26 press release had said Alli (then the Region Four REO) was "wanted by the police for questioning in relation to a multi-million dollars fraud committed on the State of Guyana." Less than 72 hours after his arrest Alli was released on $100,000 station bail.
The former REO, during a telephone interview with Stabroek News, explained that the employment of all REOs is dependent on a contract which must be renewed annually. The Ministry of Local Government and Regional Development, Alli said, is not obligated to renew the contract.
"By rights they should have given me an explanation," Alli stated when asked if the ministry had explained why they chose not to renew his contract.
Alli said he received a "vague" letter from the ministry informing him that it will not be renewing his contract.
Meanwhile, the former REO said that since he has been released on bail police have told him nothing about the status of the investigations into the allegation against him. No legal action, Alli said, has been taken against him.
Crime Chief Seelall Persaud, when contacted recently, said "investigations are ongoing" and declined to comment further.
During a press conference on March 4, the day Alli was released on bail, Lall had reported he had asked that an investigation be carried out by the Auditor General based on some documents that were culled from the Integrated Financial Management Accounting System (IFMAS).
Lall had explained that IFMAS was a database which keeps records of every transaction made by all ten administrative regions. The information inputted to this database goes to the Ministry of Finance and a copy is sent to Lall's ministry. Periodically, the information stored in IFMAS is scrutinised and sometimes "red flags" are noticed.
Examination of the Region Four transactions, he'd said, showed that only one person was supplying Region Four with goods and services in areas like maintenance and the supply of various items to the region. The cost of the items and services supplied amounted to more than $100 million. For some of the items needed, the 'three quotes system' was used for selection but most of the time the region's Tender Board decided who would supply what.
In its key findings, as it related to ministries, departments or regions, the Auditor General in his report (on the Public Accounts of Guyana and on the accounts of the ministries, departments and regions for the fiscal year ended December 31, 2008) stated: "Several breaches of Tender Board Procedures occurred, especially in Region No 4, where contracts were subdivided in order to avoid adjudication by the respective Tender Boards. Also, quotations from suppliers were falsified to facilitate the awarding of contracts to specific persons, and purchases were made from individuals who were not considered to be established suppliers. As a result, fraudulent practices to the value of $6.931M were perpetuated on the Regional Administration, Region No 4 during the year audited and an amount of $21M in 2009."
This section of the report was read to Alli and he was asked by this newspaper whether he would be willing to answer several questions pertaining to the Auditor General's findings. However, he declined to comment.
"I have not seen the report so I can't comment on it," Alli said.
He further said that he is meeting with his lawyer tomorrow to discuss several issues. Following his meeting, the former REO stated, he will be in a better position to address some of the things about which he is being questioned.
Alli and the RDC Expediter Bharrat Persaud, a Government Information Agency (GINA) release had said, were sent on leave after a preliminary report was issued by the Auditor General's report.
Around the Web