-gunman fled in car
Businessman Terry Bacchus died shortly after he was shot outside his Water Street, Georgetown business place on Saturday night, just over a month after he received a threatening phone call.
Bacchus, 36, of Lot 34 Anna Catherina, West Coast Demerara was pronounced dead on arrival at the Georgetown Public Hospital some time around 10.30 pm. He was shot just outside of the Vendor's Mall, about an hour earlier.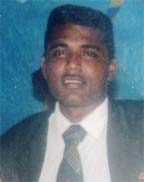 His relatives were still in shock when this newspaper visited yesterday morning.  Bacchus, they said, had no enemies as far as they knew and they were clueless as to who could've been involved in the shooting.
Later, one of the man's sisters said that Bacchus had told them about a threatening phone call he'd received. The person had threatened to have him killed.
"He told us that this person called him and told him that he was making too much money, that he was too successful and they would pay (someone) to kill him," the distressed woman said.
Saturday nights, she explained, are busy and the Water Street store, Double Discounts, is open until 9pm or shortly after. On the night of the incident Bacchus, three of his siblings and other staff members closed the business shortly after 9.
"They all left," Bacchus' sister said, "and he [Bacchus] remain there. He was going to drive home by himself in his vehicle."
At the time relatives were yet to receive feedback from police. The matter was reported to the Brickdam Police Station.
Reports are that Bacchus was in his vehicle when he was shot. There were two versions of what happened to the businessman.
One version – told by several persons who were at a roadside "swing" a short distance away – said that a vehicle carrying the gunman pulled up alongside Bacchus and discharged two gunshots.
However, a vendor said that two security guards were on duty in the vicinity at the time of the incident. The security guards, according to him, said that Bacchus' shooter had been standing alongside his vehicle shortly before discharging the shots. Bacchus was speaking to the man prior to his demise.
Both groups reported that after the gunshots were heard the gunman escaped in the car.
The persons with whom this newspaper spoke were unable to describe the vehicle. After Bacchus was wounded, they said, he tried to drive but slammed into the concrete base of a lamp post and a tree in the middle of Water Street.
At the scene yesterday morning the damage was evident. A piece of the tree branch was still lying where it was pitched after the impact with Bacchus' vehicle on Saturday night. Shattered glass, either from the windscreen or window, was still on the road as well.
Bacchus' vehicle was taken into police custody and is currently at the Brickdam Police Station.
No accident
Police in a release last evening said that they are investigating the circumstances surrounding Bacchus' death. However, they reported nothing about the manner in which Bacchus was shot.
This is what police said about the incident: "At about 2115h. last night public spirited persons took Bacchus out of his motor vehicle which had crashed into the concrete base of a street light along Water Street, Georgetown, and took him to the GPHC [Georgetown Public Hospital Corporation] where he was pronounced DOA [Dead on arrival]."
There were also reports that Bacchus was shot during an attempted robbery. However, when both versions were put to the man's relatives they insisted that his death was not an accident.
"Attempted robbery? Accident? This was no accident. He was murdered," one of Bacchus' sisters stated.
Stabroek News also learnt at the scene that there was some delay in getting Bacchus to the medical institution. There was some difficulty in locating someone willing to take him there.
An older sister said she learnt of what had happened to Bacchus some time around 10 pm and by the time she arrived at the hospital she found "his still body". She too insisted that her brother's murder was an act of jealousy. Bacchus also owns businesses at Mon Repos, East Coast Demerara; Stabroek Market, Georgetown and other locations.
On March 27, 2008 he had appeared before Magistrate Fazil Azeez at the Leonora Magistrate's Court after he allegedly shot a minibus conductor following an argument at an Anna Catherina night spot.
Bacchus had pleaded not guilty to a charge of discharging a loaded firearm with intent to commit a felony and was remanded to prison. It had been alleged that on March 15 that year at Anna Catherina with intent to maim, disable or cause grievous bodily harm, he discharged a loaded firearm at Derron Elexy.
The matter, Stabroek News learnt, has since been discharged.
He leaves to mourn his mother, 11 siblings, his wife and three children.
On April 8, another businessman, Rajendra Sonilall was shot dead execution-style by a gunman at Mon Repos who crept up on him. The police have not yet charged anyone in connection with that murder.
Around the Web