Just before Terry Bacchus' black Lexus land cruiser slammed into the concrete base of the light post on Water Street a car – carrying the gunman who murdered him late Saturday night – was seen closely following him.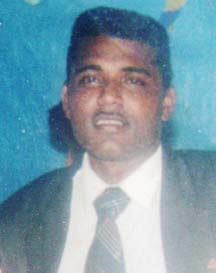 After Bacchus suddenly swerved into the post the car immediately sped along Water Street's western carriageway. It was headed north and could have escaped along a number of side streets.
An individual, who expressed safety fears and requested anonymity, related to Stabroek News early last night about noticing the black Lexus driving at a normal speed and the white car following it.
"I believe that Terry swerve in the post after he lose consciousness," the person said. "And this white car was following so close that after he swerve in the post they had to reverse before they coulda drive away… If you ask me they de following him to see wha woulda happen."
Minutes before, the person reported, Bacchus was parked a short distance south (more towards the Stabroek Market area) of his Vendor's Mall store Double Discount. The businessman was speaking with someone on his cellular phone. Bacchus, they said, had been on his phone for a while. It is not clear who the man had been speaking to that night.
On Sunday this newspaper was told two different versions of what happened on Water Street that night. One version – told by several persons who were at a roadside "swing" a short distance away – said a vehicle pulled up alongside Bacchus and the shooter discharged two gunshots.
However, a vendor said that two security guards were on duty in the vicinity at the time of the incident. The security guards, according to him, said that Bacchus' shooter had been standing alongside his vehicle shortly before discharging the shots. Bacchus was speaking to the man prior to his demise. Both groups reported that after the gunshots were heard the gunman escaped in the car.
The individual insisted that the second account of the incident is accurate.
Saturday night, shortly after 9, Bacchus, his siblings and other employees closed the business. The man's sister, Diana, told Stabroek News that she and the others got into the Canter and Bacchus was driving his vehicle. They went over to his bond on South Road, she said. Bacchus told them that he would leave for home in 15 minutes.
The woman said that her brother returned to the Water Street location where he had been drinking with some employees outside the store. Just after 9 pm the Canter returned to the Water Street location and it was the last time she saw him alive. At the time, Bacchus was in his vehicle on his cellular phone. Diana said the Canter then left Georgetown and it wasn't until they had reached Vreed-en-Hoop that they received telephone calls about her brother's death.
Stabroek News learnt from the anonymous informant that it was shortly after the Canter returned and left that they realized Bacchus was still at the location. It was the second Saturday that Bacchus was seen "having a few drinks" with his employees.
It was also not the first time that the white car was seen in the area, the individual reported. The car had been sighted several times in the previous week in the vicinity of Bacchus' business.
The window of Bacchus' vehicle (a left-hand drive) was down and some persons reported seeing a man standing there speaking with him. It was around then, the individual said, that the shots were heard.
Shortly after this, a man was seen shoving a gun into the waist of his pants and walking towards the white car. There was one man, the driver, waiting in the car. It was after Bacchus was wounded, the individual reported, that he tried to drive away.
"Now when Terry slam in the post I rush over to see how I coulda help and by that time people was done gathering around," the individual said.
Bacchus was still breathing when they checked on him but they were unable to get a vehicle to transport him to the hospital until the police arrived. By the time Bacchus was taken to the Georgetown Public Hospital it was too late. He was pronounced dead on arrival.
An autopsy has since been conducted on Bacchus. Police in a press release yesterday reported that Government Pathologist Dr Nehaul Singh gave the cause of death as "perforation of the heart and lungs due to gunshot injuries".
Who would want Bacchus dead? When asked this question the individual immediately said that the businessman was a friendly person. However, over the years he had made many enemies in the business community and was not as well liked as he thought he was, they said.
Bacchus, according to them, sold goods at very reasonable prices that others were hard pressed to compete with. The man, they said, had even refused several requests by persons to raise his prices so that they would have an equal chance of pushing off their goods.
His relatives, when asked the same question, insisted that Bacchus had no enemies. But they had said that about a month ago Bacchus had received a call from a man who told him he was too successful and he would pay someone to kill him. There have also been reports that a "contract was out for his head". Diana, when asked about this, told Stabroek News that Bacchus had been told about the contract by a friend who had heard it from other persons.
"When he heard that a contract for a large sum of money was out on his head he thought it was a joke… He thought everyone liked him. He believed that no one would want to do something like that to him," Diana said.
The threatening phone call was never reported to the police.
Bacchus owned businesses at various locations in Georgetown, West Demerara and one at Mon Repos, East Coast Demerara.
Mon Repos businessman Rajendra Motilall Sonilall was gunned down in early April after he returned home acting strangely following a trip to Lethem a week before his death. There had also been reports that a "contract" was out on Sonilall's life as well.
Reports had said that his killing was well planned and the gunman who attacked seemed to have no other aim but ensuring his death.
Baachus's murder, this newspaper learnt from the anonymous informant, appeared to have been well planned. The fact that the white car was seen in the area several times, they said, indicated that Bacchus was being watched.
"Then there is this," they said, "if you just shoot a man you would try to escape right away you wouldn't drive slowly behind him… they were waiting to ensure that they damage him."
Around the Web