Approximately 30 minutes of moderate to heavy rainfall along the East Coast of Demerara (ECD) early yesterday morning resulted in water accumulation at several locations. However, upper east coast villages like Hope, Dochfour, Two Friends, Ann's Grove, Clonbrook, Greenfield and Beehive were the most affected.
Some yards had as much as eight inches of water when Stabroek News visited shortly after 11 am. The water is stagnant and residents said that it will take a few days to drain if the rain stops. One  Dochfour resident stated that there is little else they can do but wait.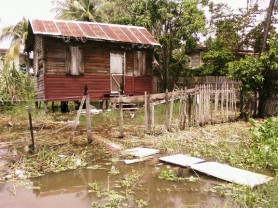 "We na going to get a pump to pump nothing yet…de only way pump coming in here is if every yard get water and it raising," the resident explained.
Early last week, when this newspaper had visited Dochfour, residents had pointed to overgrown drains in the area. They said that no work was being done to maintain the drainage system in the area and many felt that this was because Dochfour would soon be torn apart to accommodate the Hope Canal which is intended to drain the East Demerara Water Conservancy to the Atlantic Ocean.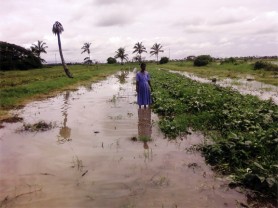 "Me na cleaning none drain by me self again," one farmer declared," because I paying me tax and still de people who getting pay to clean de drain na cleaning it."
Patricia Sam, they said, is responsible for maintaining the drains along a section of the East Coast including Dochfour. While nearby areas like Two Friends and Hope have been cleaned, residents said, no work has been done on Dochfour. This newspaper was unable to locate Sam for a comment.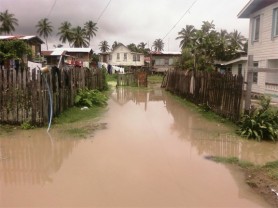 "You know me," another resident stated. "Since 2008 when we had de last big flood I de willing to talk but now me na want me name publish because it causing we too much trouble…when these government people know is who talking then dem giving de person hard card but me ah tell you this Patricia Sam wrote in de papers that she did so much work in Dochfour and up to now nobody na see no work do in this area."
Many other residents made similar statements. Residents insisted that had drainage work been done in Dochfour then there would not have been an accumulation of water after only 30 minutes of rain.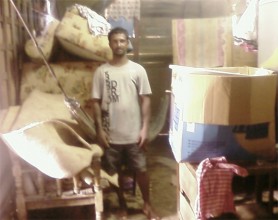 Suraj Persaud was forced to send his wife and three children to stay with relatives at Ogle after floodwater gushed into his home during the wee hours of yesterday morning. The man, who lives in a ground floor apartment, had to elevate his bed, stack furniture atop each other and place his gas cooker on higher ground to avoid water damage.
For some, like Suraj, the water receded from inside their homes leaving behind a rank smell. But it remains in yards and has caused the waste from latrines to overflow. Four bags of cement, which Persaud said he'd stored to build an indoor toilet for his ailing mother, were damaged by the water.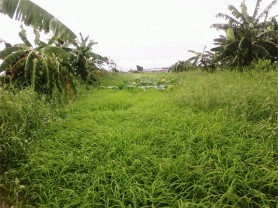 "I am tired of this thing," Persaud said, "same thing happen last time we get flood…I only hoping the rain don't keep falling for real cause then is when the water level going to go sky high fuh real."
Several acres of cash crops have also been affected by the rise in the water level at Dochfour. Leela Doodnauth and Nazim Alli lost thousands of dollars worth in bora, squash and other vegetables.
"First we suffer to get water," Doodnauth said, "and now we getting too much water…de government like they going to have to give we El Nino and flood relief one time." Alli, Doodnauth and many other Dochfour residents depend on their crops for a living. Without their vegetables to generate an income they will be in a bad state for the next few months.
At a recent press conference – which outlined the comprehensive plan of response to the current midyear rainy season involving the National Drainage and Irrigation Authority (NDIA) and other D&I organizations – Minister of Agriculture Robert Persaud had announced that just over $305M would be spent.
In Region Four, which includes all the affected areas listed above, Persaud had said that $46M would be expended to deal with issues. The NDIA, according to Persaud, was excavating 48 miles of drainage channels in Golden Grove/Victoria, Mon Repos, Cove and John, Enterprise and Hope.
An inlet channel at Greenfield, he'd also said, was being dredged and mechanical excavation of that channel was also being done.
Despite these works several Greenfield residents were seen pumping water from their yards. Inches of water were also in Clonbrook and Ann's Grove yards.
"Well," a Greenfield resident said, "it look like we back to square one again."
The water, he explained, would recede from Greenfield within a few hours once there was no rain. More rain, the resident said, and the high tide would spell disaster for the area.
Several attempts made yesterday to contact NDIA Chief Executive Officer, Lionel Wordsworth for a comment on the current situation were futile.
Around the Web