Police in Berbice are on the hunt for a prisoner who escaped yesterday morning from the Reliance Station for the second time.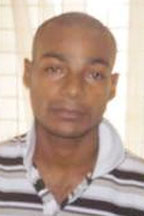 The escapee, Chetram Singh, 26, of Betsy Ground, East Canje had just returned from the Reliance Magistrate's Court and was left unattended in the inquiries office when he suddenly disappeared.
After ranks realized he was missing they made a mad rush to have him recaptured but he outran them.
Singh, a deportee who had escaped on May 9 and was recaptured one week later, was before the court on charges of escaping from lawful custody, break and enter and larceny as well as for the larceny of a generator. He was further remanded to prison.
Following his escape the first time, police, acting on information, had recaptured him in an abandoned house in the Canje Creek aback Betsy Ground with a quantity of suspected stolen articles.
He had reportedly said that he had not escaped but was in fact set free after paying a female special constable and a neighbourhood police officer $35,000.
The officers were arrested and charged and the case against one was dismissed while the other had been placed on $50,000 bail.
Police had recovered articles, including a television set, blender, bicycle, cell phone and a camera in the house where Singh was hiding out. The items reportedly belonged to Somatie Causeway, 50, of the nearby Adelphi Settlement.