Construction work on three bridges in the Annandale/Buxton area on the East Coast of Demerara (ECD) over the past several weeks has created traffic chaos in the area, especially during the early morning rush hour.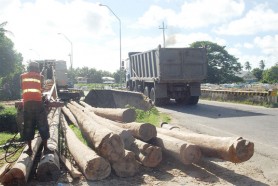 Several road users told this newspaper yesterday that the construction work on two of the three bridges has seen long lines of traffic crawling along the ECD Public road.
The bridges undergoing repairs are at the entrance to the villages of  Annandale, Buxton and Vigilance and according to persons in the area,  the build up in traffic usually occurs during the morning rush hour as well as in the evening.
Works Minister Robeson Benn offered no comment when contacted yesterday by Stabroek News. Residents in the area told this newspaper that the works have seen many persons from the area arriving late for work since transportation becomes difficult between 7 and 9 in the morning.
While the railway embankment is seen as an alternative route for motorists, persons who traverse the road on a daily basis noted that that  the bridges and potholes along that thoroughfare have seen motorists using the ECD public road more frequently.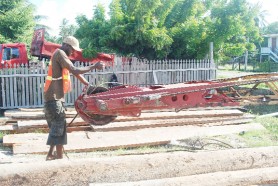 While the first bridge at Annandale remains incomplete, renovation work, which includes pile-driving, is being undertaken to the second bridge on entry to Buxton as well as a narrow bridge on entry to Vigilance.
Stabroek News understands that R Bassoo and Sons Construction Company is carrying out more than 70% of the works while other aspects of the projects have been sub-contracted to other construction firms.
The project is one of several being undertaken along the ECD and East Bank of Demerara under a $1.3B infrastructural road programme, which also includes renovations to the Abary Bridge.
Around the Web