The Melanie Damishana man whose fence caused the death of a fifteen-year- old boy on Monday was yesterday charged with manslaughter and released on $250,000 bail.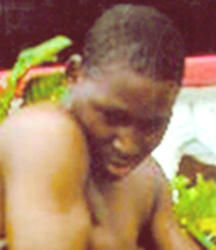 Grafton Wright of Linden Drive, Melanie, East Coast Demerara was not required to plead to the indictable charge when he appeared at the Vigilance Magistrate's Court before Magistrate Sherdel Isaacs-Marcus.
It is alleged that he caused the death of Leondrew Davis.
The matter will be heard again on July 30 at the same court.
Wright, a poultry farmer was taken into police custody with visible marks of violence which his relatives said were inflicted by irate villagers.
From all accounts the lad left to go and play football with friends as they normally did every afternoon in the vicinity of Wright's property. The football reportedly went into the man's yard and upon seeing Wright approaching on a bicycle the boys decided to await his arrival to retrieve their ball.
However, the man reportedly ignored the boys who were leaning against his fence before he arrived.
Leondrew's cousin Candace Davis had told this newspaper that she learnt that all of them except the teen moved away from the fence.
"They see a light come on," the woman relayed, adding that the boys then realised that Leondrew had not moved from the fence but was gripping it with both hands and appeared to be in pain.
The woman had said she was told that the light went off after Wright looked out and apparently saw what had happened.
According to the woman, someone tried CPR on her cousin but in less than a minute he was dead.
The boy was then taken to the practice of a private doctor nearby, where he was pronounced dead, before the body was taken to the Vigilance Police Station.
Stabroek News was at the station on Monday evening when Wright was brought in and observed that he had a head wound and a swollen eye.
"He seh a woman chop he in he head," one relative who chose to remain unidentified said. The man was processed and placed in a cell.
Villagers had said that Wright usually electrified his fence to deter thieves from making off with his poultry
Around the Web