With the aim of improving their lives through income generation, 93 members of the Women with Power Organisation graduated with skills in floral arranging, tie-dye, nail art and cake decorating at an exercise hosted at the Venezuelan Cultural Centre yesterday.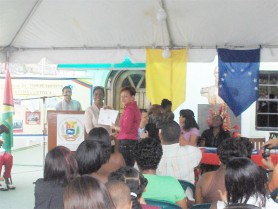 In giving the feature address, Indra Chandarpal, advisor to the government on gender issues, told the women that they had just embarked on the first step of a long journey. She added that by empowering themselves, they have empowered their families as well. She told the women, "do not sit on your laurels and say this is it." She urged them to see themselves as women who have a skill which can take them forward.
Ministry of Human Services and Social Security representative Hemwattie Lagan urged the women "to go out there and show what you have done." Further, she reiterated the need the show their talents and skills and to market these, otherwise their training would have been a waste. She said that change began with them.
Additionally, she said that for a long time women have referred to themselves as housewives. She told these women to move themselves out of this classification and view themselves as "strong women". Life, she said does not end with marriage and children.
She lauded the Venezuelan Cultural Centre for its initiative in providing a skill to women which would lead to improvements in their lives.
Carlos Pestana, Charge d' Affaires of the Venezuelan Embassy in brief remarks said the women should be proud of their achievements and urged them to use it as a stepping stone to be independent.  The ladies, he said, were now equipped with the skills which would allow them to become income generators.
Afterwards, designer Sonia Noel gave a testimony of her dreams and her achievements.
She told the women that there will always be challenges but if they were focused and determined, success would be theirs. Noel added, "you can do it, regardless of your situation, tap into your inner strength and you can overcome all challenges."
The ceremony which was held under the theme "Hands of Revolutionary Women" saw the women receiving certificates in the different disciplines. The women who were drawn from several regions in Guyana were trained under the auspices of the centre. A mini-exhibition was held which showcased the work of the graduates.
Around the Web