The fire which ravaged parts of the Mahdia mining community started in an apartment with illegal wiring behind the "Arcade," Fire Chief Marlon Gentle has said.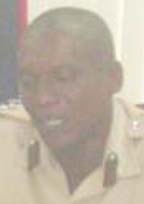 Speaking to Stabroek News yesterday, Gentle said investigations revealed that the fire originated in a building which had been divided into eight rooms. He added that the source was found in the third room checked which was locked.
Upon breaking into the room it was discovered that its ceiling was on fire, the chief said. Investigations, he added, revealed that the wiring in the room was "unregulated" and had apparently overheated and ignited the ceiling around a bulb when "night power" came on.  The Mahdia community receives electricity from 6 pm to 6 am daily from a heavy duty generator operated by businessman Roger Hinds.
Stabroek News had earlier reported a resident as saying that the fire had started at a shopping mall owned by Hinds located in the "Arcade."
Gentle said there were no fuses or any other sort of protection to safeguard the dwelling from an electrical surge which he stated was the same reason for last week's Globe Yard fire. According to the chief, the room belonged to an individual who worked with someone connected to the entertainment business in the community, but the occupant had left for work since 2 pm that day.
Reports said the July 1 inferno started around 6.30 pm and reduced more than 20 structures in the commercial area of Mahdia, Region Eight to rubble, leaving behind millions of dollars in losses and scores homeless. Mahdia had just been recovering from severe flooding. Mahdia's population has been growing over the years but it has no fire station or fire engine. Regional Chairman Senor Bell had told this newspaper that at various meetings there were suggestions for one but the ideas were not taken seriously. He said the July 1 disaster highlighted the importance of such a need in the community.
Residents reported that the community had experienced several fires over the years, the last of which reduced a dwelling in the area to ashes on Mashramani day this year. Persons in the community said there had been calls for the authorities to equip the community with a fire-fighting unit since the developing mining sector is home to many in the mining industry who store fuel at home to undertake the economic activity. The mining community, which is bordered by several mountains, is home to the regional administration of Region Eight, with a hospital, police station and several other governmental agencies.
The community is home also to some 4,000 residents with the figure including residents from the nearby Amerindian village of Campbell Town.
Around the Web