Investigators have hit a brick wall in the murder of the seven-year-old boy who was found in a trench as residents of the area are not providing any useful information, according a senior police officer.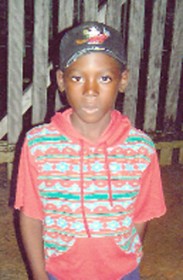 The officer said while the force is continuing its investigation there has been no new development since interviewing residents in the B Field Sophia area has yielded no useful information.
On Friday, the mother of Dacwan Sutherland, Zon Park, appealed to persons in the area to give police information so she can have justice for her son.
"Somebody had to see wah happen, why deh not saying something, please talk and tell the police something," the woman pleaded on Friday.
She said she has been making regular checks with the police but the only information she has received is that investigations are continuing.
On July 2 the child's body was pulled out of the Sophia trench one day after he went missing while running an errand for his mother.
The woman, who was on duty as a security guard at the Digicel Cell Site in Sophia at the time, had sent her son to their Sophia C Field home to retrieve some items. When he failed to return she started a frantic search for him and while persons said they saw him at various times no one said they saw anything suspicious.
It was the following morning that the child was pulled out of the trench where there is a submerged bridge that connects two streets. The mother and residents had pointed out that even if the child had fallen into the trench and drowned he should have still been wearing his clothing.
The child was found clad only in his briefs and what appeared to be blood was seen at the base of his nostrils.
A bag and two water bottles were found in the trench along with the child's slippers and cap. His mother said some other items he would have collected from their home were also missing.
On Friday his mother said she travelled to Berbice to bury her only child and has since returned to the city to resume working. Even as she spoke to Stabroek News from her work site via phone the woman indicated she was going through photographs of her child.
"A sit down here, looking at pictures of he, it hard, it hard," she said.
Park said that she still cannot sleep in the house she shared with her child and said she is not sure she would ever be able to do so.
For now the woman said she is taking it one day at a time and she just hopes who ever killed her son would be brought to justice.
A PME had revealed that the boy died from drowning and blunt trauma to the head. It was also discovered that he had been sexually assaulted.
Around the Web