The Ministry of Agriculture has designated two excavators and a pontoon to carry out excavation works in the Kara Kara Creek, Region 10, and this is expected to lead to greater cultivation and bring relief from flooding to farmers of the area.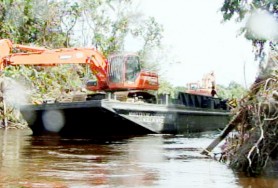 Residents in the area have been suffering from severe flooding during bouts of intense rainfall and representation was made to Agriculture Minister Robert Persaud, the Government Information Agency (GINA) has reported. Persaud on Wednesday visited the area to check on the works in progress. He said that the area had been blocked for decades and upon representation by farmers to have the creek mouth and a section cleared, dredging was initiated. The area has been overgrown and blocked by trees and metals. "If we were to contract this work out, it would have cost us in excess of $30M but what I decided to do is deploy the equipment to Kara Kara to commence work in the area," he was quoted by GINA as saying.
The two excavators and pontoon were to be taken to the Coomacka Mines Creek, Upper Demerara River Wednesday to commence desilting of creeks in the area.
Minister Persaud said that the intervention will see greater cultivation and bring relief to farmers. "Recognising the need for farmers here to get some relief; although Region 10 is not part of our official D&I area, I recognised the plight in this situation facing farmers and residents and so we deployed the equipment," he said.
"It has been working here for several weeks and I am satisfied with the quality of work that I have seen so far. As you can see there were huge overgrown trees and metals in the creek which have completely blocked the area. In fact the level of the creek was so blocked that if you look at the amount of sediments you would see it was very high and would have created a lot of drainage problems," Persaud said.
Meanwhile, George Marshall, a farmer, thanked the agriculture minister and the team for the work done. He noted that residents previously suffered from heavy flooding, due to the silted condition of the creek.
Around the Web