While police have identified three suspects in the Brighton murder of 85-year-old Sookree Arjune they are yet to make an arrest.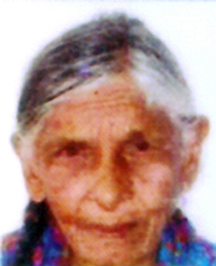 Last Tuesday morning Arjune's grandson discovered her battered body in bed tightly wrapped in her bed linen. More than $40,000 cash was discovered missing from the woman's home.
Jiteshwar Devanand had told Stabroek News that he'd last seen his grandmother on Monday night shortly before she retired to bed.
Arjune, called Stella, spent all her life in the Berbice village of Brighton and had sold rum for a living.
Commander of Police 'B' Division Steven Merai, speaking with this newspaper indicated that investigators now have three suspects in Arjune's murder and are working very hard to find and arrest them.
Last Tuesday night Devanand had explained that his grandmother lived in the house in front of his. She lived alone in the upper flat of the house while her brother lived on the ground floor.
He last saw her at about 6 pm on Monday and about two hours later he saw the lights to her house being turned off and assumed she'd gone to bed. Devanand discovered her dead at about 9.40 am on Tuesday.
There was a bloody piece of wood on the bedroom floor.
Around the Web