A woman was placed on $100,000 bail on Friday when she appeared in Court One of the Georgetown Magistrate's Court charged with fraudulently converting money which was entrusted to her by her common-law partner.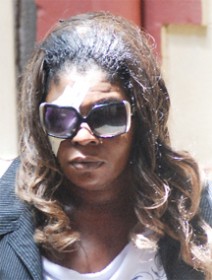 Karen Reece pleaded not guilty to the charge when it was read to her by acting Chief Magistrate Melissa Robertson.
It is alleged that on July 6, being entrusted with $387,000 by Malcolm Lancaster to keep and return same, she converted $253,000 to her own use and benefit.
Reece, 39, of 71 D'Urban Street, Wortmanville was represented by attorney Patrice Henry.  He told the court that his client has an unblemished record and the allegation against her stems from an argument between the parties.
He brought to the court's attention that Reece's eye was bandaged after an injury allegedly inflicted by Lancaster.  However charges of assault are still under investigation and are expected to be laid shortly.
The attorney said that Lancaster told Reece that "I gun ensure you get trouble." He said after this, the charges were laid.  However he said that his client had nothing to do with the money and asked that she be granted bail.
However Lancaster said that he and Reece sold some gold and received the sum of money stated in the charge.  He said that she left home with the money and  on her return she had just $134,000 in her possession.  A heated argument then ensued between them over the balance of money.  He said Reece told him that she had banked the money but upon checking at the bank, no record was found.
The prosecutor did not object to bail.
Reece was then granted bail and the matter put down for September 1 in Court Two.
Around the Web