Murder accused Danny Busjit was yesterday acquitted of the capital offence when Justice Brassington Reynolds directed the 12-member jury to return a formal verdict of not guilty.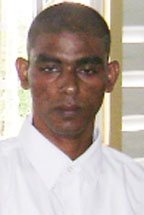 However, Busjit was quickly handcuffed and returned to the New Amsterdam penitentiary, where he is currently serving a five-year sentence for escaping from lawful custody.
Busjit was charged with the murder of US citizen Kalidas Surjnarine, 74, whose nude, headless body of was found in his yard at Mibicuri, Black Bush Polder on November 26, 2005. A human skull was found the next day about 60 yards from where the body was recovered. The cause of death was given as shock and haemorrhage due to a severed neck.  The upper extremities, except the hand, were severely eaten away with the tendons and the bones exposed. The gaping wound to the neck and upper extremities showed severe contamination with grass debris, and rice husk.
After upholding no-case submissions by attorneys Mursalene Bacchus and Kim Kyte-John, Justice Reynolds told the jury, "After three weeks of hearings, I have determined on points of law that a case does not exist for the accused to answer." Referring to the evidence of Detective Sergeant Richard Frank, who testified to extracting an oral statement from the accused, Justice Reynolds noted that the statement was unsupported by other elements in the matter. Further, he observed that although a body was discovered, the remains, which had been the subject of an autopsy by government pathologist Dr Vivekanand Brijmohan, may well not have been the body which other witnesses had been referring to during the trial. "I deem it unsafe to allow you as judges of the facts to participate further in this matter. I will direct you to formally acquit the accused of the charge for which he was indicted," Justice Reynolds said.
Justice Reynolds also commended State Prosecutor Dionne McCammon for her work but added investigators needed refresher training. He said that the investigators took several issues for granted and he added that the time has come for sleuths to "tighten their boots."
Meanwhile, Busjit will remain incarcerated in order to serve his remaining sentence for escaping. He was among 18 remanded prisoners who had staged the daring breakout at the New Amsterdam Penitentiary in August 25, 2007, by sawing through iron bars in the recreational facility and scaling a 15-foot fence using a makeshift ladder.
Around the Web