Representatives of the Federation of Independent Trade Unions of Guyana (FITUG) yesterday picketed the Pegasus Hotel saying it was protesting the "union busting" tactics of the Hotel's management.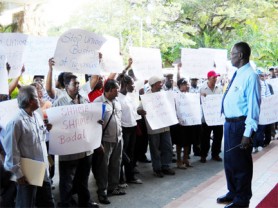 52 hotel staffers are represented by the Clerical and Commercial Worker's Union (CCWU), which is affiliated with FITUG. Following a FITUG conference yesterday, the placard-carrying delegates walked to the Hotel, entered the foyer and shouted slogans for a few minutes before leaving. "We are going to target each and every patron that visit the Pegasus", General Secretary of the CCWU, Ann Anderson told reporters.
She said that new owner of the Pegasus, Robert Badal does not want the workers of the Hotel unionized. "Badal…has been refusing to meet with the union", she said. Badal could not be contacted by Stabroek News for comment yesterday. He had told this newspaper in March that it was the employees who expressed a lack of confidence in the union.
The matter is before the Ministry of Labour but Badal has refused to discuss the matter there, Anderson said. She added that he has been refusing to deduct union dues. The CCWU represents cooking and housekeeping staff at the Pegasus. Anderson said that the union will do something "every day" on the issue. Staff and guests looked on at the protest yesterday.
In March, Stabroek News had reported a representative of the union, who said he worked at the hotel for six years, as saying that Badal has been pushing to have the hotel's workers de-unionised since he took over its management in May last year.
The employee said that last year November a proposal was submitted to Badal for an amendment of the Collective Labour Agreement between the hotel and the CCWU, to which he has not responded. Further, the representative said that working conditions at the hotel are not up to standard and he contended that the department production incentive (DPI) and travel allowance were cut from the workers' pay cheques. "Since he come on board, he trying to cut back on things that were there for a number of years," the representative had said.
Badal, when contacted at the time questioned why he would want to do such a thing, "I can't want to disband the union. How will I do that? If employees have no confidence they are free to reject the union." He added that it was the employees who have expressed their lack of confidence in the union while reiterating that he does not want the union dissolved.  "I don't understand where these complaints are coming from." When asked about cuts in the DPI and travel allowances, Badal had said that at no time were benefits cut back, and added that since he took over the hotel, benefits were increased.
Around the Web