The tied-up and battered body of a security guard was yesterday morning found at an Enterprise, East Coast Demerara (ECD) housing construction site and batteries from three heavy-duty machines are missing.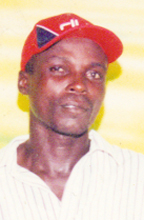 Ronald Cato, 44, of Lot 58, Non Pariel, ECD who began working at the site on July 1, from all appearances tried to fight off his attackers.
Police said in a press release that they are investigating the circumstances surrounding the death of Cato known as Rodwell Cato whose body was found around 0630 in the security hut at a construction site at Section `C' Enterprise where he was on duty.
The release added that Cato was found with his hands tied behind his back, his feet tied together and a piece of cloth around his neck. Police did not mention the missing batteries.
The body is at the Lyken's Funeral Home awaiting a post-mortem examination scheduled for tomorrow.
The Ministry of Housing is presently developing the area where the murder occurred. Works on the land started last March and are scheduled to be completed in November.
Yesterday's incident led to a massive police search in the Enterprise area  which included the use of a tracker dog and from reports reaching this newspaper, the ranks on the exercises came up empty-handed.
When Stabroek News arrived on the scene several workers were gathered discussing the incident. One of them said that it was the "checker girl" who made the gruesome discovery. The man who did not want his identity revealed said that Cato who they knew as `Pepper' was lying on his belly and was wearing only his underpants.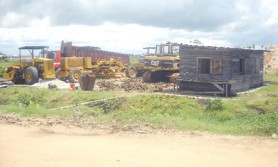 Another employee told this newspaper that later it was discovered that two batteries each were stolen from a lorry, an excavator and a grader. The employees opined that the perpetrators spent a lot of time on the site before leaving. This newspaper was told also that the perpetrators spray painted the word `Gaza' on a nearby wall and also left behind an empty condom packet. This newspaper noticed the packet still lying on the floor of the small hut and there was what appeared to be a small amount of blood about a foot away. Cato's pants was several feet away. Jaikarran, a co worker said that he saw the man around 6 pm the day before and he appeared to be in high spirits. He recalled that Cato was sitting on one of the construction machines gaffing and had never expressed fears of  being alone on the site at night. He said the area where the hut is located is illuminated at night.
Persons in the area this newspaper spoke with did not recall hearing or seeing any suspicious movements prior to the discovery of the man. One woman said that she was informed of the incident and sometime later police passed her home on motorcycles, in vehicles and on foot. One of the ranks had a tracker dog she said. The woman told this newspaper that she only saw one tracker dog.
"A good husband and father"
Cato's wife, Jacqueline yesterday struggled to accept that he will never come home and that their five young children are without a father.
The woman told Stabroek News that she doesn't now how they will survive now that their breadwinner is dead.
Jacqueline said that her husband was left unemployed after he was retrenched some ten years ago from the sugar industry where he worked as a cane cutter. She added that he was receiving money from the National Insurance Scheme (NIS) and decided to seek a job since the money was not enough to support them.
The grieving woman recalled that an employee called and told her that her husband was dead. Jacqueline said was she was in shock and on arrival at the scene shortly after, police attempted to stop her from viewing her husband's body. She said eventually she got a glimpse and noticed that his hands and feet were tied with pieces of his sheet. She added that one of his eyes was swollen and he was wearing his briefs.
She opined that her husband tried to fight off the attackers and it was during the scuffle he was killed, she said.
She noted too that he was probably pounced on when he went to check on the vehicles as he usually does several times during the night.
She recalled that she last spoke with him around 4:45 pm on Tuesday before he left for his work site. He would work as the night guard, she explained. The housewife said that when she told the three eldest children ages, ten, nine and eight, of their father's death, screams erupted. The other children are three and one.
Later in the day, Jacqueline told this newspaper that investigators at the Vigilance Police Station told her that three suspects had been identified and that the police were looking for them. When this newspaper contacted a senior police officer in the East Coast Demerara Division, he said that investigations into the matter are ongoing and no suspects have been caught.
According to Stabroek News' records there have been 68 murders so far for the year.
Around the Web