Brazilian agricultural experts yesterday met persons interested in large-scale corn production as efforts get underway to tackle the billion-dollar bill attached to corn importation for the local feed industry.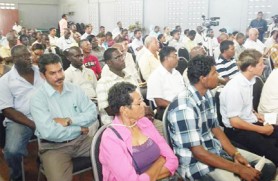 Yesterday's seminar was conducted at the Guyana School of Agriculture, Mon Repos by officials from the Brazilian agency Embrapa under a technology transfer cooperation agreement signed by the two countries last year.
NARI Director Dr Oudho Homenauth in opening the event said that Guyana's interest in large-scale corn production was as a result of the obvious market right here. Corn kernels and the plant themselves are vital components in livestock feed.
"Some of the data we got recently from two of the major feed mills in Guyana indicate that we are importing several thousand metric tonnes of corn on an annual basis and in terms of what it cost us … over a billion Guyana dollars," Dr. Homenauth said.
He added that the expansion is also in keeping with the ministry's agricultural diversification programme which also covers the livestock industry. Dr. Homenauth noted that there has been traditional corn cultivation locally with yields ranging between 1500 kg and 2500 kg per hectare but said this could be bettered with the acquisition of new technologies and improved seed varieties. However, he pointed out that Guyana would not be using genetically modified corn seed instead opting for the open pollinated ones.
Embrapa expert Dr Jose Carlos Cruz said the Brazilian agency will be providing corn seed which could see yields of as much as 4.5 tonnes per hectare adding that it costs about US$40 to seed a hectare with the open pollinated variety which the locals would be using. However, he noted that while corn has a high production potential soil preparation is costly with the inputs for fertilisers ranking higher than those for crops such as wheat, barley, rice and sugar cane.
During a question and answer period one farmer queried the readiness of the local market for increased corn production to which Dr. Homenauth responded that the large quantities being imported, pegged at around 50,000 tonnes annually, was evidence enough. The key issue though, was at what price the mills would be getting the corn, he pointed out.
"We have to look at the competitiveness; the feed mills at this time are getting corn … landed here between $28 and $30 per pound. Obviously they're not going to purchase from you at a higher cost than what they are importing at this point in time," Dr. Homenauth said.
He added that interested persons should let NARI know beforehand so that the necessary arrangements could be made with the mills in advance.
Meanwhile, the NARI director was unable to say when the new corn seeds would become available, adding that they were still in the initial phase of the project.
Another individual also questioned the availability of loans to assist farmers interested in getting into corn production to which the director said a soft loan component is to be introduced under the diversification programme. This, he added, would be controlled by a commercial bank and approval would depend on the proposals put forward.
Agriculture minister Robert Persaud said some 40,000 hectares of land has been identified for corn production in the intermediate savannahs and surrounding areas but added that they would not be issuing land "willy-nilly."
"We will not be encouraging anyone to just occupy the land or to have land in the papers for real estate but rather agriculture land must be for the purpose of production," he said.
On the issue of financing, Persaud said his ministry was developing a soft credit facility which is to be forwarded to the Cabinet for approval very soon.
The initial visit by the Embrapa officials is to be followed by an exchange visit by technicians and the private sector to Brazil and simultaneously the acquisition of improved corn varieties from Brazil.
The experts spent some two weeks here doing an assessment of corn production in Guyana, soil types and weather conditions as well as visiting several locations in the intermediate savannahs, East Berbice and on the Essequibo Coast.
Around the Web