Minister of Education Shaik Baksh says Guyana is grateful for the dedicated service provided by WorldTeach 2009 volunteer teachers.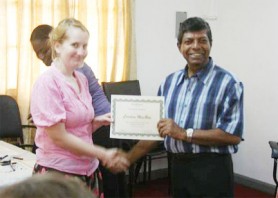 At a closing ceremony hosted at the National Centre for Educational Resource Development on Tuesday Baksh said the ministry had been promoting volunteerism and several overseas-based NGOs such as Project Trust, Voluntary Services Overseas and WorldTeach have come here to share their expertise, particularly in Science and Mathematics.
According to a Government Information Agency (GINA) press release Baksh noted that through Guyana's national volunteer programme persons with a sound secondary education would opt to go to schools throughout the country, including to mountainous and hinterland communities to teach various subjects. Baksh said over 40 volunteers will be enlisted in September as the ministry aims to boost scores in Math and Science in secondary schools. The ministry has also been upgrading laboratories, providing more text books and elevating teachers' status to promote science subjects in schools.
Assistant Chief Education Officer for secondary schools, Melcita Bovell was heartened by the commitment of the volunteers. She said she was grateful to the volunteers who have given a year of dedicated service and have set an example for others to follow.
In response, WorldTeach volunteer Caroline MacRae said she was amazed at Guyana's natural beauty and the kindness of citizens. She said too the students' enthusiasm will benefit them and the country and expressed happiness that the volunteers' initiatives will help the students to have a brighter future.
WorldTeach began its first year of service in Guyana in 2005 by providing tuition in Mathematics and Science at public high schools countrywide. It is an NGO that provides opportunities for individuals to make a meaningful contribution to international education by living and working as volunteer teachers in developing countries. The ministry's partnership with the NGO resulted in a successful re-entry year of volunteer teaching as seven volunteer teachers have been placed in secondary schools. Students also participated in co-curricular activities including environmental and chess clubs which led St Stanislaus College into the National Schools Chess Championship. Tutoring programmes and a running club were also initiated.
At St Joseph's High and Diamond Secondary Schools, volunteers encouraged an environmental day awareness project. They also helped to rebuild the technology department at the latter school and those deployed to New Amsterdam volunteered at the orphanage.
Around the Web