A 72-year-old man of Nooten Zuil, East Coast Demerara was killed last evening after he was pinned in a trench aback of Victoria when the tractor he was driving skidded off an unpaved road.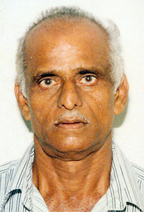 The dead man is Besham `Chach' Balkaran of 128 Nooten Zuil.
According to reports from eyewitnesses, Balkaran was driving a tractor out of the backlands just after 6 pm when he tried to avoid a horse cart which was parked alongside the road. One resident who chose to remain unnamed said the vehicle apparently skidded and was whipped into the trench by an attached trailer.
"After it topple, it had about three persons pon de trailer but dem man jump out de trailer and then he (Balkaran) get pin down. De engine pin he belly."
The man added that he and about seven others jumped overboard to try and roll the tractor off the man but were unable to do so and the man subsequently succumbed. He added that it took more than 30 men to lift the tractor and get the body out.
When this newspaper visited the scene of the accident the owner of the cart, Joseph Elias, was present but said he was not at home at the time of the accident which occurred in front of his house.
"I sorry the way it happen because is somebody I know well," Elias said.
However, he was adamant that his cart was not the reason for the accident since he had been parking it where it was for almost three years.
"The tractor using this road for a year and over … I can't say what is it. I was made to understand the road was wet. I sorry how it happen but there's no way my cart could cause it … it's not something that was driving."
Meanwhile, friends and family had already gathered at Balkaran's home when Stabroek News visited and spoke to his wife Ellen. The woman said she last saw her husband around 10 am yesterday when he left for work. Balkaran worked as a driver for a contractor.
"He strong, he seh if he sit down he gon get mo sick so he like go an wuk," the woman recalled.
Balkaran was the father of four grown children, three of whom reside in the US and Canada. Mrs. Balkaran said they were contacted.
A relative of the man said he was well-liked and that not a bad word could be spoken about him. (Kwesi Isles)
Around the Web