The lifeless body of an unidentified man was yesterday morning found floating in the canal between Vlissengen Road and Irving street, close to Church Street.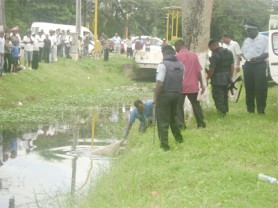 Police said in a press release that the discovery of the man who is of African descent was made around 1050 hours. The man, the release said appears to be in his mid fifties and was clad in cream-coloured chequered pants with a black belt and a pair of Timberland boots.
The body is at Lyken's Funeral Parlour awaiting a post-mortem examination and according reports reaching this newspaper there were no marks of violence on the body.
When Stabroek News arrived on the scene a sizeable crowd had gathered and as word of the discovery spread, it grew larger.
According to reports, the unidentified man had money in his pockets.
The discovery was made by two lads- Troy Cush and Sherwin Roberts who said that they were on their way home and were playing "throw to throw" with a ball, when the ball ended up in the canal.  According to 13-year-old Cush he went to retrieve the ball and while in the canal he spotted what he thought was a salt bag and he pelted it with a brick. Roberts, age 12, added that he soon realized that it was a body when he saw what appeared to be arms and warned his friend.  Cush told this newspaper that he then dived into the water and confirmed that it was indeed a man. "I dive under de water and see he head and suh," the boy related. Subsequently, the boys reported their discovery to the guard at a nearby premises and the police were summoned to the scene. Several heavily armed officers then arrived at the scene. As word of the discovery spread, a large crowd gathered at the scene.
Around the Web