Twenty children from the Ruimveldt Children's Home and Care Centre were evacuated during the wee hours of yesterday morning after a fire started in the building's garage.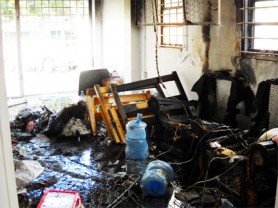 Quick thinking by care givers on duty at the facility and residents in the Freeman Street, East La Penitence area led to the formation of a bucket brigade which was successful in controlling the blaze.
Assistant Administrator of the care centre Jennifer Babb told Stabroek News that she'd learnt from the care giver who discovered the flames that it started in the garage.
"She told me that she heard something like rain drops falling on a roof…she later described it as popping sounds like something sparking I guess and said that shortly after there was smoke and when she went to investigate she saw red flames and immediately  raised an alarm and got the children to safety."
The incident, according to Babb, occurred just after 4 am. Although the fire service responded promptly, she added, by the time they arrived there wasn't much to be done.
"The children were alarmed but thankfully they were not very, very traumatized but yes, of course, we will be speaking to them about what happened just to make sure they can be open about their feelings and we can clear any lingering fears they may have," Babb said.
Extra beds, Christmas decorations and other things were being stored in the garage, she said. At the time she could not give an estimated value of the facility's loss. When Stabroek News visited the Freeman Street location after 10 am investigators had already visited the scene. However, Babb indicated that they would have to return to do further checks.
"As far as I have been able to learn from them (investigators) the fire had an electrical origin," Babb stated.
The children spent most of yesterday at a nearby church while workers at the centre dealt with the cleaning and getting the facility in order again.
In 2004 the Ruimveldt Children's Home and Care Centre was created by the Wesleyan Church and two years later it started housing children. The centre has been in operation since and is funded mainly by the church, funding raising activities and donations from private sources.