The two breaches in the Mabura road have been fixed and traffic can flow normally again though there will be minor interruptions as work continues.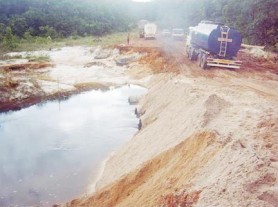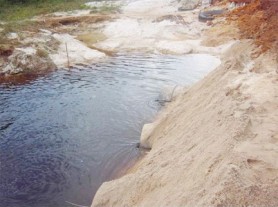 The Government Information Agency (GINA) said that the Ministry of Public Works and Communications successfully restored the creek crossings at 40 Miles and 42 Miles, Mabura after they collapsed early Monday owing to heavy overnight rainfall. The crossing at 40 Miles was restored on Wednesday and the Ministry was able to complete the rebuilding of the structure at 42 Miles yesterday, which has resulted in traffic flowing as per normal, GINA said.
Engineer in charge of the operations at Mabura, Naeem Mohamed explained that the quick fix that was used to restore the road at 40 Miles will be supported with two additional culverts and this will cause minor interruptions to traffic. He told GINA that vehicles traversing 42 Miles today will encounter minor interruptions as the Ministry will be installing two additional culverts to provide further drainage capacity to the three culverts that were installed.
Meantime, as regards the flooded-out section on the Ituni-Kwakwani trail, Minister of Transport and Hydraulics, Robeson Benn said the Ministry is hoping that it will be fixed soon. "The Ministry has also dispatched an excavator along with other equipment to Kamakabra Creek area on the Ituni – Kwakwani trail to relief and restore the road section which was overtopped due to the swollen stage of that creek caused by recent extreme inland rainfall," GINA quoted him as saying. "There were traffic disruptions on this trail today (yesterday) as a result of this event, but the Ministry is hoping to have the problem fixed by this evening and is receiving support from RUSAL's Bauxite Company of Guyana Inc, from the Aroaima mine location on the Berbice River", he said.
GINA said that government through the Civil Defence Commission and with the assistance of some organisations such as Food for the Poor is dispatching assistance inclusive of food items and medical supply to flooded communities at Kwakwani landing, Rockstone, Kumaka, Three Friends, Muritaro, Malali and Great Falls.
Around the Web