Acting Chief Magistrate Melissa Robertson yesterday ordered that a man, who allegedly stabbed a woman to her neck with a screwdriver after threatening to kill her, be remanded to prison when he appeared at the Georgetown Magistrate's Court.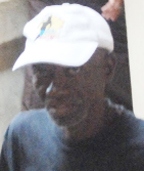 Aubrey Garraway of Anira Street, Queenstown, had pleaded guilty to the charge of assault causing bodily harm but not guilty to a threatening behaviour charge.
He admitted that on July 12, at Louisa Row, he unlawfully and maliciously assaulted Celeste Minard so as to cause her actual bodily but he denied that he used threatening behaviour towards her.
Garraway, in his own defence, stated that he and Minard had an intimate relationship for some time and that on the day in question he went to take ice to her when found another man with her.
He said that soon after his arrival the man attacked him and that a screwdriver that he had earlier used to fix his bicycle's brakes was what he used to defend himself. He noted that Minard had assisted the other man to beat him.
He said that he was dealt several blows with a flask to his head and back by the man and was bitten in his back afterwards by Minard.
He noted that he never threatened to kill Minard.
After listening to Garraway's recount of the incident the magistrate entered a not guilty plea to the assault charge.
However, Minard, who was also present in court, stated that she was never intimately involved with Garraway but that he had assisted her in moving into her new apartment which she had offered to pay him for but that he declined it.
She said that on the day of the incident she was at home washing when Garraway came to her home drunk.
She noted that she scolded him for his drunken state and had asked him to leave but stated that he refused.
She said that after continuously asking him to leave Garraway got upset and attacked her with a screwdriver stabbing her in the neck.
She noted that Garraway then bit her on her forehead and had afterwards continued beating her.
Minard then displayed a blooded shirt which she said was what she was wearing when the incident occurred and pointed to the stab wound on her neck and a laceration on her forehead.
She went on to say that after struggling on the ground for some time she managed to bite Garraway in his back.
She noted that she managed to escape to change into a dress but that she was blocked from leaving to go to the hospital immediately since Garraway had placed himself on the floor at the door where he stayed until the next day.
She noted that she had used the ice that he had brought to numb the stab wound to her neck.
Minard further noted that Garraway again attacked her on Wednesday with a knife at her workplace and that she had made a report on the matter to the police station after informing her employer.
The magistrate then ordered that the matters be transferred to Court Two for July 27.
Around the Web