By Zoisa Fraser

Life for 34-year-old Jacqueline Cato has been very challenging over the years but following the brutal murder of her husband at his worksite on Wednesday, she and her children are facing an even more uncertain future.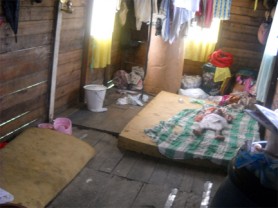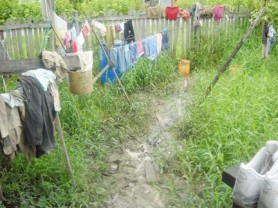 With five young children, the $23,600 in National Insurance Scheme benefits that 44-year-old Ronald Cato called `Pepper' was receiving, was inadequate. Since his sickly wife was unemployed he had no choice but to go and look for a job to ensure that most of their needs could be met. Cato died trying to meet that need.
For the Cato family, money is not their only problem. The small one room house – which is being rented, and its environs are unsuitable for raising children. There is no electricity and three of the children have to walk for about 30 minutes to get to their school every day.
When Stabroek News visited the family at their modest Lot 58 Non Pariel, East Coast Demerara home yesterday they were all inside. Minutes later, Jacqueline walked through a muddy track to meet this reporter on the roadway.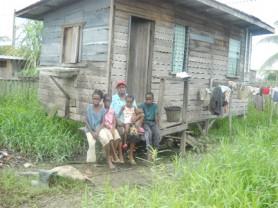 Managing a smile, the woman told this newspaper that her husband's employers have given her some money and foodstuff. Promises were also made to cover his funeral expenses, she said.
"Ah happy fuh de lil help they [the employer] givin meh but meh still got dese children to maintain. Ah got to figure out now how meh gon get school thing fuh dem…," Jacqueline said sadly.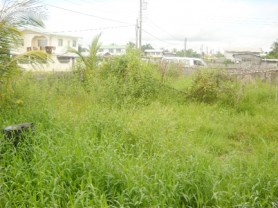 The woman said that about three years ago she and her husband moved from Number 50 Village, Corentyne, Berbice to find betterment. At the time they had two children Carrlata and Troy, now aged ten and nine. Since then Chakumba aged eight, Chuma, age three and one-year-old Cheeobeeh were added to the family.
Jacqueline explained that they eventually managed to rent their present home for $4,000, which was dropped from $6,000. She further said that the landlord has since told them that they have to move by September.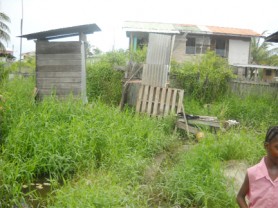 "We only pay last month rent. Ah don't know how meh gun pay rent fuh this month. Ah ain't even got nowhere to go," the woman said adding that many years ago, her husband had applied for a house lot and was allocated one at Tuschen, East Bank Essequibo.
"We didn't want to go till deh man. Dat too far. We din want something right hey pon de East Coast," she added.
In the light of her present situation, Jacqueline yesterday appealed for a house for herself and children, stressing that even if she is given land, she cannot afford to pay for it or build a house.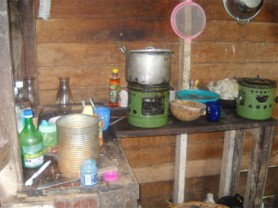 The woman further explained that she is unable to work since she suffers from high blood pressure. She planted a kitchen garden but had to abandon it about two months ago because of flooding.
Unhappy
Jacqueline during the emotional interview told this newspaper that she is unhappy with her living conditions but she could not afford to do better. "It was fuh this need to mek things betta that my husband went back and wuk," she added.
Minutes later she took this newspaper into her yard for a tour. On entering the gate, one is met with a long muddy trail leading to the house. The grass in the yard is as tall as the eldest child in some parts. Several ochro plants could be seen peeping out.
The house the family occupies has one room which is divided into a bedroom and a kitchen. The kitchen sink is located just outside the kitchen window and an outhouse surrounded by bushes is located a few feet away from the house. Next to the outhouse is what looks like a small pond.
At the time of this newspaper's visit, the youngest child was sleeping on a mattress that was on the floor. Nearby was a thin piece of foam folded in half. There were several barrels, storing the family's clothing and other belongings. The house has no furniture and there are no mats or coverings on the wooden floor.
Jacqueline told this newspaper that no electricity runs to the building and water is sourced from a stand pipe in the yard. To get from the house to the pipe, there is another muddy trail.
This newspaper noticed that a large pool of water had settled underneath the house.
The woman told this newspaper that she cannot afford to weed her yard and because of its state the children would play on the roadway. Things are bad when it rains since the children have to stay in the modest house and the yard becomes swampy since there is no drainage.
"Ah don't know what to do. Ah don't know what meh next step is," she said shaking her head. She expressed the hope that one day things will change allowing her to adequately provide for her children and give them the life she had dreamt of.
Cato was found tied up and battered on the floor of his security hut at a Section 'C' Enterprise, housing construction site.
He had begun working at the location on July 1.
Anyone desirous of assisting Jacqueline could contact her on 613-4007.
Around the Web