Deputy Chair of the Rights of the Child Commission (RCC) Rosemary Benjamin-Noble has said there should never be a recurrence of the Kelvin Fraser incident and the body will be asking the ministers of Home Affairs and Education as well as the Commissioner of Police to oversee a review of the approved protocol for intervention in matters at schools.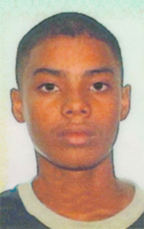 In a recent letter, Benjamin-Noble said the tragic circumstances related to the passing of Fraser, 16, are being carefully followed by the Commission. In addition to great sorrow at his death, of particular concern to the RCC is the conduct of the Guyana Police Force (GPF) in a school environment, she said. "Children and their parents have a right to reasonably expect that a school environment would be safe and offer fair protection. Even in instances, however, where for various reasons this is not achieved, caution ought to be applied by lawful authorities in restoration of order," Benjamin-Noble said.
On June 7, Kelvin, a fourth form student at the Patentia Secondary School, was fatally shot during what police said was a scuffle with a rank who was attempting to arrest him. However, two youths who were present said they heard no sounds of a scuffle. Further, one youth said that Kelvin was complying with the order of the policeman, when he was shot at close range. Quancy John, the policeman who shot Kelvin, has since been charged with murder.
Benjamin-Noble noted that while the Commission considers it imprudent to comment on what should be the result of what they assume are ongoing investigations and criminal proceedings instituted, the RCC shall be requesting Minister of Home Affairs, Clement Rohee, Education Minister, Shaik Baksh, and Commissioner of Police, Henry Greene to oversee a review of the approved protocol for intervention in matters at schools. "Should none exist, the RCC expects that one would be rapidly put in place, and training and sensitisation be immediately undertaken of the GPF officers and ranks. In particular, the presence, type and use of weapons must be clarified", she said. "The RCC is of the view that there must never be a recurrence of incidents such as this and the likelihood would be minimised if officers and ranks of the GPF are mandated to follow protocol, and, in a school setting, conduct themselves in a manner that is respectful of children's rights," she added.
The police had said ranks were responding to a report that a group of males were harassing girls at the school when Kelvin was shot. Following the shooting, sources at the school told this newspaper that strangers enter the school's compound at will promoting a gang culture and the police had been called to the school several times in the past to chase them away.
Around the Web