Former Guyana Power and Light Co. (GPL) worker Collin Boyce was yesterday placed on $175,000 bail by acting Chief Magistrate Melissa Robertson after he was charged with a meter scam.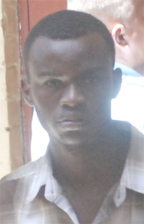 Magistrate Robertson also issued an arrest warrant for Imlol Gumbs, Boyce's alleged accomplice in the scam, which police say bilked a woman of $70,000.
Boyce, of Good Intent Village on the West Bank of Demerara, was not required to plead to the indictable charges of obtaining money by false pretence and attempting to commit a misdemeanour.
He denied on May 6, at Norton Street, he attempted to obtain $180,000 from Nandani Ramanand by pretending that he was an employee of GPL and that he could fix a meter at her home that he claimed was tampered with. He also denied that on March 9, with intent to defraud, he obtained $70,000 from Nandani Ramanand by pretending that he could fix a GPL meter for her.
His lawyer, Patrice Henry, asked that Boyce be released on his own recognisance, noting that he had fully cooperated with the police during their investigation. He noted that prior to the charge his client had an unblemished record.
Ramanand, who was also present in court, stated that on March 6, Boyce came to her home and informed her that she had a tampered meter and that she would be arrested for it. She said that he requested that she pay him $180,000 to prevent her from being incarcerated. She said that on March 9, Boyce returned with Gumbs and told her that they were willing to take $70,000 from her to fix the meter.
Ramanand said she gave the men the money but proceeded to go to GPL's Head Office because she thought that the two men were sent by the company. She noted that when she got there she told a clerk about the incident with the two men and that not long after Boyce called her on her cell phone and told her that he was at her home fixing the meter. She was subsequently informed by the clerk that the two men were not employees of GPL and that they were out to rob her.
According to Ramanand, officials at GPL then called the police who went to her home where they caught Boyce red-handed, tampering with the meter. The magistrate then ordered that Boyce return to court on July 30.
Around the Web