A team of officials from the Ministry of Health is in the Upper Demerara area to assess possible health implications as floodwaters continue to rise in parts of Region 10 yesterday and communities like Malali try to cope with limited economic opportunities.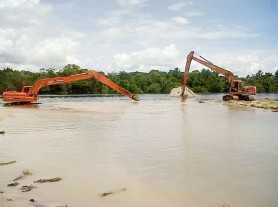 Minister within the Ministry of Health Dr Bheri Ramsaran told this newspaper yesterday that additional medical teams have already been dispatched to the area over the past two days, noting that medical professionals were sent to the area a few weeks ago when water began to flood the area.
Ramsaran said that flood kits, containing disease prevention medicine, were taken to Kwakwani yesterday and medics along with a doctor are expected to be in the area tomorrow. He also noted that the Linden Hospital complex is in a better position to respond to health issues associated with the Upper Demerara area.
Assistant Regional Execu-tive Officer (REO) of Region 10 Devon Bremner told Stabroek News that a health team, which is expected in the area on Sunday, will visit areas within Kwakwani which have been under water over the past several days.
Bremner said that the water level ,continue to rise almost daily because of swollen creeks, however, he noted that the area experienced long periods of sunshine yesterday and residents were hoping that similar weather patterns lie ahead.
He said that teams from other governmental agencies were expected to visit Kwakwani in the coming days and he noted that workers from the Public Works Minis-try were yesterday working feverishly to fix parts of the Linden/Kwakwani road which were destroyed after water in two nearby creeks overtopped on Thursday morning. Another team of officials from the Ministry of Agriculture is expected to visit the area this weekend.
Bremner stated that he was going to visit other affected areas in Kwakwani yesterday, including the Water Front area where he noted residents have been experiencing flooding over the past several days.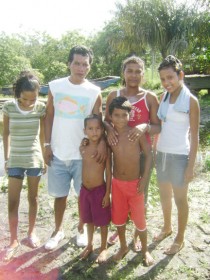 Except for a few areas, the Ministry of Agriculture's Hyrdomet Department stated that most weather stations across the country have recorded in excess of 100mm of rainfall for the month , and these periods of heavy downpours in low lying areas ,which are already saturated ,have increased the risk of flash flooding in inland and interior locations.
The agency stated that it has deployed technical staff and other resources to support other agencies and local government bodies' national response to communities in the Upper Demerara River area. At the same time all regional and local bodies as well as residents in affected and vulnerable low-lying areas are being urged to remain and to assist in the monitoring of key drainage infrastructure since the country is experiencing the rainy season and heavy downpours are likely to continue during this month.
Meanwhile, residents of the flood-hit community of Malali are calling for the introduction of other economic activities to cushion the hardship being endured by the men in the area.
The community up the Demerara River is home to a little under one hundred persons, the majority of whom are children. While farming is mainly of the kitchen garden type, the male population engages in logging for their livelihood, an activity they are now saying cannot sustain their families effectively.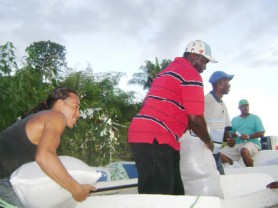 Henry Fiedtkou and his family have been residing in Malali for all their lives. They were forced to take up residence at the Head teacher's house which is on high ground. The family said that one night this week they all went to bed and the following morning they stepped into high waters. The river had swollen overnight taking with it all their belongings which were left outside that night; items including clothing, shoes, and a quantity of kitchen utensils. This was the situation for several other families in the area. Most persons whose homes were flooded out are now housed at state buildings which are on high ground.
On a typical day, while Henry's wife spends most of her time caring for their four children ages 5 to 15 years, Henry goes off to work as a chainsaw operator with persons who own concessions in the area. He said that he is often frustrated by his employers who are habitually tardy with payments for work done. "Sometimes you would have to wait weeks and even months to get money from the boss man.  When you ask for your money for work done they would tell you that you have to wait until they are able to get the logs out of the backdam and take it out and sell it", explained the distraught man.
When this happens, Henry said that he and others facing similar situations are forced to credit food in the area, an activity he said is usually very embarrassing. To alleviate this, the man suggested that regional or national leaders should look at possible economic activities to cushion the financial constraints. He suggested that the women in the community could come together and participate in the sewing of school uniforms.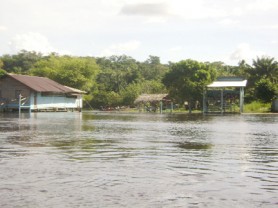 "This does not call for much finances so instead of us having to go all the way to Linden for school uniforms, the Ministry of Human Services could let the group get the money to sew the uniforms instead of giving them vouchers to go till to Linden to collect." The man said that the idea was arrived at by a group of men in the area the night prior to Stabroek News' visit. "Today we are totally dependent on flood relief to eat and feed our families." he concluded.
Henry's story was confirmed by several others. One of them was 30-year-ol Telford Lim. Lim is a father of two and he, too, depends on earnings from logging activities to provide for him and his family. He, too, was displaced by the flood but he is happy that his wife and children two and four years-old are not feeling the effects. The man said that his wife and children are comfortable in Linden where his wife is attending a training programme. "I am happy that when she returns she would be working as a teacher because the government will be employing her and that's why she is out on training."
Telford said that the flood is the worst ever experienced by residents. He explained that the road which is usually used to access their logging concessions is flooded and the main bridges spanning the creeks have all been washed away. Additionally social activities in the area have been affected. The man said that during this period residents would converge at a central area to socialize. "We use this time to come together at this area to play games and such like because it keeps us as a people together, the children get to socialize with each other and it really keep us together. But with this flood we can't get to do this. All the children suffering because if we allow them to come out they can get sick." said the man.
Yesterday residents of Malali said that the water has begun to recede and they are hoping that there isn't more heavy rainfall in the coming days.
They said that they are very watchful for the many illnesses that can affect residents when the water falls.  Yesterday a medical team was in the area and much to the relief of residents no one tested positive for malaria. Skin rashes were prevalent among children. Residents were furnished with a large supply of water purifiers and disinfectants among other things.
Around the Web