By Kwesi Isles
The parliamentary opposition parties say they support any effort to extend passport distribution and related services to other parts of the country in order to end the hassle and extra costs burdening members of the public.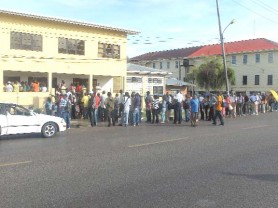 Lengthy lines with people from all parts of the country are a regular feature outside the Camp Road Passport Office with persons braving the elements from the wee hours of the morning to be included in the quota of persons dealt with by the officials daily.
When Stabroek News visited the Office around 7.30 am on Friday there were more than 100 persons in the line waiting to enter the building. Deo Persaud, a Mahaica resident who accompanied his uncle to renew his passport, said they had arrived around 4.30 am on Thursday but were unable to get anything done and had to return on Friday. He said they arrived around 3.15 am on Friday and there were already about 12 people waiting in the rain outside the locked gate. Luckily for them, his uncle was one of the persons who made the quota.
A West Coast Demerara man who chose to remain unnamed was not so lucky. He said he arrived at 6 am and met "quite a bit" of people already queued up.
"People got to do something about this because I got a certain amount of time to leave the country. I don't know what will happen," the man who was seeking a new passport said.
About 10 minutes after Stabroek News arrived at the office an Immigration Officer came out and said they had met their quota for the morning. He told those individuals who were dwelling in Georgetown to return on Monday while adding that those persons from Essequibo, Linden and Berbice would be facilitated. The announcement was followed by loud protestations from several persons in the line with one woman commenting that it was her third day in the line.
Speaking to Stabroek News recently PNCR Shadow Minister of Home Affairs Deborah Backer said that it was the government's responsibility to provide services in a timely manner.
"Why a quota system?" she queried. "Services such as birth certificates, passports are essential. If you need additional infrastructure because of machine readable nature of passports so be it, have it."
The PNCR parliamentarian acknowledged that there were some improvements at the Licence Office but added the passport system also needed to be looked at.
"It must be decentralised and if you have to spend money then spend money."
According to Backer, her party would not oppose any spending to better the system since the entire nation stands to benefit.
Meanwhile, AFC Chair-man Khemraj Ramjattan is of the opinion that the state of the passport system is "unacceptable.
"It's a most annoying thing to see people from all quarters of the country  lining up and some still can't get the document because of the quota system," he said
"You're not lining up for caviar; it's one of the most important documents so this is highly unacceptable."
According to Ramjattan, ideally there should be distribution centres across the regions or at least also in Berbice and Essequibo. He added that the government's stated reason that security of the biometric documents was the primary concern for having only one place of issue was "ludicrous."
"If there's any intellectual authoring at the passport office then everything goes so this security argument is nonsense," Ramjattan declared. His remark was a reference to the fire which razed sections of the Ministry of Health's Brickdam head office.
The authorities later said it was an act of arson which had "intellectual authors" behind it.
The AFC official added that the length of the lines outside the Passport Office was an indictment of the government and "an index that things are not well in this country".
Decentralising the services, he said, would ease costs on those people who have to travel from far-flung communities. Stating that the AFC would not oppose government spending on such a move, Ramjattan added that having such services within other areas would empower those communities.
"The PPP has promised since 1992 to decentralise and it has done nothing since and will not do it for 2011," Ramjattan concluded.
GAP/ROAR parliamentarian Everall Franklin said decentralisation of the services would be a welcome move.
"In this age of a central database there is no reason for one place of issue, absolutely unnecessary," he opined.
According to Franklin, persons should only have to visit the Camp Road office to uplift the documents with applications facilitated on-line.
"There's no sense in people lining up for two days to hand in an application," he added.
Several efforts to get a response from Minister of Home Affairs Clement Rohee on the opposition parties' positions were unsuccessful.
Many persons have complained over the years by way of letters to this newspaper that some system should be put in place so that individuals from far-flung communities should not have to come to Georgetown just to apply for the document and then return to uplift it.
Some have contended that if applications and renewals are done at regional offices this would lessen the inconvenience and crowds at the central office.
The letter writers have also asked why the system could not be in place at least at main locations across the country.
Immigration officials have said that the system may be decentralised at some point in time but have been unable to say when. The primary reason given was that the nature of the new system used for the machine readable passports cannot be decentralized at this time.
Around the Web