– after row over gold, money
A team of police officers has been dispatched to Echerak in the Potaro area, Region Eight to investigate reports that a Linden businessman was brutally chopped to death following a dispute over missing raw gold and money.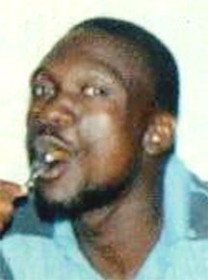 The dead man is said to be John Philander called `Black man', of Wismar Hill, Linden, and about 50 years old.
Divisional Commander, David Ramnarine, yesterday confirmed that the police are investigating a suspected murder at Echerak. He said the information received so far is that the body of a man with chop wounds was discovered lying in a shop on Friday night. He could not say when the discovery was made but said that the suspect has since fled the area.
According to the commander, Echerak is an area that is very difficult to reach. He explained that it will take the ranks about two to three days to get to the location where the murder reportedly occurred.
He explained that the majority of the time will be spent walking. The ranks will also have to travel by water to get to their destination.
Stabroek News was informed that the policemen left Mahdia some time before lunch yesterday en route to the top of Kaieteur Falls from where they would have to walk for more than a day to reach Echerak.
Philander's uncle, Phillip Bynoe told Stabroek News from Linden yesterday that around 8.30 am a friend living in Mahdia informed him of the incident. Bynoe said that he immediately contacted the police in Linden and Mahdia and they confirmed the message he had received and said the murder occurred some time on Friday.
Bynoe, during the telephone interview with this newspaper said that Philander was a miner and had been operating a shop in the area for about three years ago.
About a week and a half ago he said, he left there and travelled to Linden and Georgetown to transact business before returning. Bynoe said that while he was away, his nephew left a man known to him, in charge of the shop.
Several days ago, when Philander, returned to the area, Bynoe said, items from the shop along with raw gold and money were missing.
He said that according to the information he received, there was an argument that led to a physical altercation. Later, while Philander was sitting his shop, the suspect, who was armed with a cutlass and a knife, approached.
According to Bynoe, Philander was dealt several chops to the body. The man then collected the remaining raw gold and money and fled into the thick bushes surrounding the area.
From all accounts, the businessman bled to death in his shop as there is no nearby health facility. The closest medical facility, Bynoe said would be at Kaieteur Top.
For this year so far nine persons have been murdered at different interior locations, according to the Stabroek News records. Philander's case represents the third chopping/knifing murder.
Around the Web