The eight contestants vying for the crown tonight at this year's Miss Guyana Universe Pageant were on Friday evening sashed at a simple ceremony held at the Princess Hotel and Casino by their respective sponsors who each believe that their girl would win.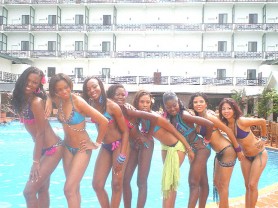 In his opening remarks, Odinga Lumumba franchise holder of the pageant and proprietor of McNeal Enterprises – the label under which the pageant is held – said he is once again pleased to be associated with preparing the girls for competition as he has always been.
He said he was satisfied with this year's delegates. "They are well rounded, educated and smart girls," he said. The franchise holder emphasised that he remains optimistic that they will do well this evening and that the winner will be an outstanding ambassador for Guyana. He said further that judging from the quality of girls contesting this year he is definitely looking for a win at this year's Miss Universe or at least a placement in the top ten.
In expressing gratitude to the various sponsors, Lumumba said the response from the business community has always been positive, which helps to make the pageant a success. Lumumba said the part played by the sponsors is a very important one in ensuring the success of the pageant since the individual sponsor bears the responsibility of catering for each contestant as relates their needs in the pageant. The sponsors will provide wardrobe, make-up, manicure, pedicure, facials and hair just to name a few.  "These businesses offer complete sponsorship," Lumumba concluded.
When asked why they decided to be part of the activity and what prompted them to support the respective contestants, the sponsors who were present at the sashing ceremony said it would make their businesses more marketable and because of the confidence they have in the various contestants.
Camilla Saunders, Office Manager of Forest Enterprise Limited said when she was first introduced to Tamika Henry at the launching ceremony of the Miss Guyana Universe Pageant, she knew immediately that the company would be interested in sponsoring her. "She has overwhelming confidence and has a passion for women empowerment; these qualities caused her to win our hearts as sponsors," the office manager said. Saunders said that after interacting with Henry, she detected a genuine, compassionate personality who has both "beauty and brains," adding that she also has a humble spirit. "We have faith and confidence in Tamika – we are definitely backing the winner." Forest Enterprise Limited conducts logging services and is located at Section K Campbellville.
Meanwhile, representative of Salon Classique, Margaret Cummings, said their girl Cindy Craig – delegate number two has shown the faith and confidence that are essential for the win. Cummings said that sponsoring Craig represents the salon's way of giving back to the community.
"I am extremely pleased to be associated with the pageant and playing my role as a businessman in giving back to the community I serve." These were the sentiments expressed by Mark Grimmond, owner of Mark Interior Communi-cations and proud sponsor of Xandra Pierre, delegate number six. Owner of the company which trades in gold and diamond among other items said that when he was approached by Lumumba about sponsoring Pierre he had no reservations as he saw a confident young woman who believes in herself that she has what it takes to win the crown. "I will be there to support her on pageant night," he said.
"Not only would our business be placed in the spotlight, but we are having an opportunity of making a young woman's dream come true," this was the response of Yugesh Kissoon – Broker of the Fullworks Motor Spares; the company that has risen to the challenge of sponsoring delegate number seven, Chrystelle Mervin.
The broker who explained that it is not the first time that the company has engaged in such an activity said that such ventures are always wise means of investment for advertisements. "We see great potential in her and have the confidence that she will win the crown," Kissoon said. The company is a distributor of spare parts for both new and reconditioned vehicles.
Like the other sponsors, Dominic O'Sullivan – managing director of Pharsalus Gold Inc said it was the potential they saw in Crystal Benn that prompted them to provide her with sponsorship. "We would be extremely overjoyed to see her crowned queen," O'Sullivan said. "By doing this we are making our business more marketable while at the same time allowing Crystal to realise and achieve her dreams," the managing director said. The company is an Australia-based one which originated in Guyana.
Twenty-year-old Rushauna Harris contestant number one is sponsored by Horizontal Electrical; Cindy Craig, 19, contestant number two is Miss Salon Classique;  Melissa Carter, is Miss Compustruct. Delegate number four, Crystal Benn is proudly sponsored by Pharsalus Gold Inc.
Waterchris Hotel is sponsor for contestant number five – twenty-six-year-old Natasha Smith. Xandra Pierre, 18, is delegate number 6 and is proudly sponsored by Mark Interior Communications. Chrystelle Mervin, 18, is Miss Fullworks Motor Spares, while 22-year-old Tamika Henry,and is sponsored by Forest Enterprise Limited.
Present at the sashing ceremony was Canada-based Guyanese singer Aubrey Mann who will be performing live as part of the entertainment planned for the evening. Other activities slated for tonight include performances from 'the Caribbean's number one cross over band – Karma' and Sonia Noel's models who are expected to "heat up the catwalk".
Around the Web