Two hundred youths are expected to join the workforce following their completion of the residential Youth Entrepreneurial Skills Train-ing (YEST) programme at the Kuru Kuru Training Centre which is managed by the Ministry of Culture, Youth and Sport.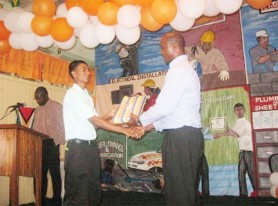 The 2009-2010 batch of students graduated at a ceremony held at the Kuru Kuru Training Centre on the Soesdyke/Linden Highway after having successfully completed the ten-month residential course, the Govern-ment Information Agency (GINA) reported.
The students graduated in nine subject areas including business studies, carpentry, electrical installation, joinery, masonry, motor mechanics, plumbing and sheet metal, welding and fabrication and garment construction.
Meanwhile, eleven trainees from the motor-mechanics course wrote and passed the driving exam, which was a pilot test by the ministry.
GINA stated that the YEST programme seeks to provide opportunities for youths to develop their talents in cultural activities, sports and confidence building, and entrepreneurial skills through practice to enable them to become well-rounded individuals.
In his feature address, Minister of Culture, Youth and Sport, Dr. Frank Anthony stated that the programme offers youths a chance to become employable and ensure that they are equipped for the work environment.
He urged that they make every effort to ensure that they use the skills and knowledge that they have garnered to effect positive changes in their lives.
The minister commended the teachers and other staff of the YEST programme for their hard work and tireless efforts to overcome the challenges that they have encountered in executing their duties to ensure that the students were successful.
Through collaboration with the Guyana Power and Light and Prime Minister Samuel Hinds, the centre now has electricity.
In addition, a new well was installed and by year-end, a purification plant will also be set up to improve the water quality.
The ministry, through the support of organizations, including the United Nations Development Programme, the German Development Bank and Food for the Poor, has been able to develop the centre by providing training materials, quality meals and classrooms for the students.
Government and UNDP, in keeping with its mission to support efforts aimed at achieving sustainable human development, building local capacity and helping people build a better life, has initiated a project called the Enhanced Public Trust, Security and Inclusion (EPTSI).
This project commenced in 2008 and extends until 2011, targeting communities in Regions Three, Four, Five, Six and Ten.
The project has made significant achievements, including the skills area where agreements were made with the Youth Ministry among others to place 300 young people on skills training and workplace attachments.
Project Manager of UNDP, Trevor Clark stated that he is impressed with the projects that were displayed.
He noted that the UNDP will be sponsoring 100 students from September.
Clark said that a survey, which was recently completed, revealed that the centre does quality work and possesses high quality teachers, GINA added.
Around the Web