Minister of Finance Dr. Ashni Singh, responding to Business Page columnist Christopher Ram's letter of July 11 in the Sunday Stabroek,  says that Ram is not an objective commentator and his commentaries are driven by a narrow political and personal agenda.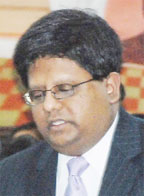 The finance minister said also that Ram as a  political commentator enjoys no monopoly on the right to criticize, the Government Information Agency (GINA) reported.
Minister Singh indicated that he finds especially objectionable the manner in which Ram casts aspersions on the character, integrity, and capability of the hardworking professionals in the finance sector and within the finance portfolio.
According to GINA, the minister emphasised that he has been privileged to work alongside a number of outstanding professionals in the ministry and its related agencies, and he has felt terribly hurt by the manner in which Ram would casually and thoughtlessly make disparaging and offensive remarks about the work that these persons do and sometimes about the persons themselves.
The minister  stated that he found it astonishing that  Ram had felt free to castigate all and sundry, yet feigned great offence when he was described as politically partisan.
"Whether he likes it or not, I see him as a partisan politician, engaged in a sustained campaign against this Government and, in particular, in a vicious and highly personalised vendetta against me. I also see him as a person who has clearly deluded himself into thinking that he has some kind of a monopoly on technical knowledge. He is only one of hundreds of persons who we have invited to share ideas with us and from whom we have received advice over the years."
Singh said further that Ram's "attempts at self-aggrandisement on account of tendering advice to me and the President are therefore laughable, even if not entirely surprising, given his widely known reputation as a person who suffers a compulsive need to prove himself better than everyone else."
Singh acknowledged that as a public official and a minister, he expects that his work and the work of his ministry will be subject to scrutiny and criticism.
"This is what democracy is about. And, we welcome it and would guard it closely."
However, the minister stated that he finds  very distasteful  Ram's "peculiar brand of personalised insults that he attempts to pass off as independent commentary."
"I have a small, highly qualified, very capable, and hardworking staff, on whose advice and technical skills I depend heavily. We are not perfect, but we try our best every day to serve the people of this country, as well as we possibly can. Christopher Ram can continue attacking people personally as much as he wishes. We have real work to do," the finance minister added.
Around the Web