The Agriculture Ministry on Saturday commissioned a cold storage facility at Parika on the East Bank of Esse-quibo, aimed at boosting and fulfilling the demands for non-traditional crops in the export market.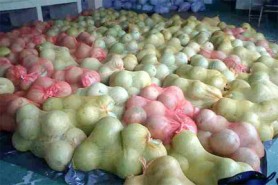 According to the Govern-ment Information Agency, (GINA), the $17M cold storage project was commissioned at a packaging facility which was officially opened in 2008 and according to Agriculture Minister Robert Persaud, the move is a significant venture which has taken the sector to a higher level. The project forms part of a $171M agreement which was signed between the Govern-ments of Guyana and Vene-zuela.
Persaud noted that the agreement between the two governments will see the construction of another cold storage facility at the Cheddi Jagan International Airport, Timehri which will cater for small and large producers and exports in and around the Timehri/Soesdyke area as well as other parts of Region 10. This move will complement Government's plan to exports non-traditional crops by air to small Caribbean countries such as Martinique and Antigua.
Persaud stated that the authorities are contemplating transforming Parika into an export hub, provided all the relevant logistics are in place. Minister Persausd stated that the export of non-traditional crops continues to grow annually and to date Guyana has recorded an increase of 50% production of agricultural produce in the first half of this year, despite challenges the sector faced during the El Nino dry weather phenomenon.
Chief Executive Officer of Caribbean Container Inc (CCI) Ronald Webster, who was present at Saturday's event, underscored the importance of exporting quality produce to meet international standards and he noted that Guyana must be proud of what the nation produces and according to him all produce exported should bear the country's flag.
Persaud encouraged farmers to take full advantage of the facilities available across the country and to continue to cooperate with the Guyana Marketing Corporation in making the latest venture a success.
Around the Web