Premnauth Narine, the patient at the centre of a confrontation between Georgetown Public Hospital staff and residents of Craig remained in the Male ward of the medical institution up to press time despite being given up to noon yesterday to leave.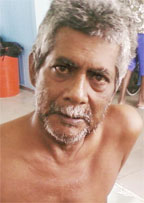 Lying calmly next to another sick man on the same bed, the 57-year-old told this newspaper yesterday afternoon that hospital staff had not told him anything and no relative had shown up to claim him. It is not clear what will become of him.
The hospital has stated that members of its staff were ambushed and assaulted by villagers of Craig, East Bank Demerara on Thursday, while transporting Narine to his home. Narine, it said, had refused to leave the institution on Thursday, after being discharged on June 28—at which time he was found to have no medical problems and was mobile with his vital signs normal.
Residents of Second Street, Craig had told this newspaper on Friday that hospital employees attempted to leave Narine on the side of the road in the mud. The hospital has denied the charge.
Narine admitted on Saturday that he was discharged in June. He said he went to the home in Craig but was refused entry. He added that he was told that he did not belong there so, with the assistance of a neighbour he took a taxi back to the hospital where he stayed until Thursday's fracas.
Narine has been placed on a bed with another patient at the back of the ward, near the washroom. The patient he shared the bed with is an old man who wore a blank stare on his face. According to Narine, since he was returned to the hospital, he was not being looked after and he referred to himself as a "lodger."
Around the Web