Support poured in yesterday for 11-year-old Dawnetta Mc Lean, whose resilience saw her being awarded a place at Queen's College amidst major odds, with promises of financial and other forms of assistance and a pledge of a brand new lap top computer has been made.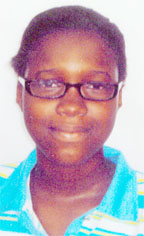 Social activist and founder of the Mark Benschop Foundation, Mark Benschop, yesterday told Stabroek News that through a donor the foundation will be presenting the child with a lap top by tomorrow or Wednesday at the latest.
He contacted the child yesterday and delivered the news and she was elated as she had told Stabroek News last week that after working hard and winning a place at the school of her dreams the only thing she wanted was a lap top computer.
The child's success story was published in yesterday's Sunday Stabroek and her mother, Dawn, said that her phone line has been constantly busy as persons here and overseas called and promised to assist the child with her education.
"It has really been good and we feel happy to know that all these people contact us to help," Dawn said via telephone yesterday.
She said her telephone was constant ringing yesterday and the kind words she heard from total strangers lifted her spirits.
Dawn works with a company as a labourer and receives $5,000 a week and this coupled with the salary her husband receives from the timber company he works with, also as a labourer, is not enough to keep the family of three afloat.
Her daughter, who came down with chicken pox late last year and then was accidentally hit in the head with a blackboard earlier this year, travelled from Kuru Kururu, Linden/Soesdyke Highway every day to go to the West Ruimveldt Primary School. Many days Dawn did not have the $480 in bus fare for the child but she borrowed from neighbours to ensure that her only child attended school.
She was worried that she would have been unable to purchase the child's school supplies for the new school term but now it appears as if this would no longer be a problem because of the many promises made yesterday.
The story also hit the social networking site Facebook and many persons, including Head of the Caribbean Guyana Institute for Democracy (CGID) Rickford Burke have also pledged support.
One local businessman on Burke's Facebook page pledged to donate a performance surge protector for the laptop "and do an electrical check at her home, and also pay for grounding her point, if necessary".
Burke also stated on his page that anyone in the US who wished to assist the family with supplies will be accommodated by Bobby Vieira of Caribbean Cargo. Those who are desirous of doing so can contact Mr Vieira directly at 718-995-2055 or send their mail to:
Ms.Dawn McLean,
C/O Bobby Vieira
Caribbean Cargo
147-46 176 Street
Jamaica, New York 11434
Tel:718-995-2055
Email:Caribcargo@juno. com
Dawn told Stabroek News yesterday also that some time back she had opened a trust fund for her daughter at Republic Bank. She said the fund requir-ed a starting sum of $10,000 which she deposited but since then she has been unable to make any further deposit and explained that had her daughter's fund reached $50,000 she would have received a bursary from the bank. According to Dawn when her daughter reaches the age of thirteen monies could be withdrawn to assist her with school supplies and she suggested that if persons so desire they can make donations through the fund at account number: 210-735-7.
For now Dawn is happy that her daughter may now receive all she needs to attend the school of her dream but for Dawnetta the dream of owning her own laptop is closest to her heart.
Around the Web